GIMPING A CYMBAL STAND FOR NO-LEG HIHAT STAND
In my never-ending quest to streamline and reduce my hardware, I did this following mod. I removed one of the legs from the DW ride stand (I play open handed, ride on left). I got one of those two-legged DW 5000 hats and removed the legs, clamping it to the "gimp" tripod. The foot plate of the hihat stand locks into place, so it serves as the missing leg of the tripod. So, instead of having up to six leg contact points, I have just two. This frees up room for another foot percussion pedal.
Setup minus cymbals. I put Velcro on the stands and clamp jaws, showing correct location during setup and preventing scratching. Two clamps ensure rock-solid support.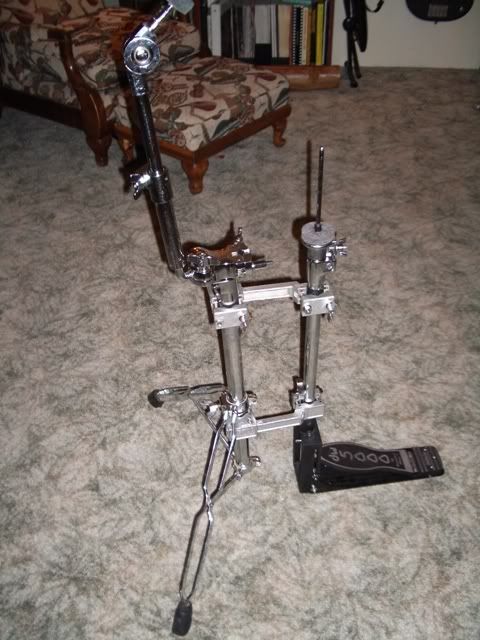 As installed in set. Stand leg placement gives plenty of room for foot pedals.
Close-up. I figure I saved a fair amount of bulk and about six pounds in hardware weight with the mod - which I of course immediately gained back with the second foot percussion pedal. The only downside is that setup is a bit trickier, as a two-leg cymbal stand doesn't stand up very well!