Now times to keep my Drummerworld forum friends updated...
For the last 12 month, I'm the owner of a Tama HH905 Lever glide Hi-Hat stand and a black Roc-n-Soc throne with backrest. Since last March, I have upgraded all my Sabian B8 to AAXplosion (I benefited from Sabian last promotion), I bought a 16" AAXplosion, received my 15" and then bought on the bay a 18" AAXplosion in mint condition.
A week ago, I was blessed by the Gods of Bronze ! In a local internet ad was posted the sale of an unknown vintage 20" ride for only 10$, fortunately the seller posted a picture of the cymbal. My knowledge of pie hammering told me it was a Zildjian A ride. After transaction completion, I looked at the "weak" stamp to find out it was a Zildjian A Turkish Cymbal Made in Canada (without the three dot) in medium-thin to thin weight. These were made from 1970 to 1972 in Canada before Sabian took ownership of the NB plant.
Here I post the original ad Unknow ride picture, pictures of the 70s Zildjian A Top & Bottom (with Flash - without flash) after good cleaning and couple of birdview pic of my latest setup (dont mind the dust on my kit or cymbals, they're part of who I am... rusted & dusty ).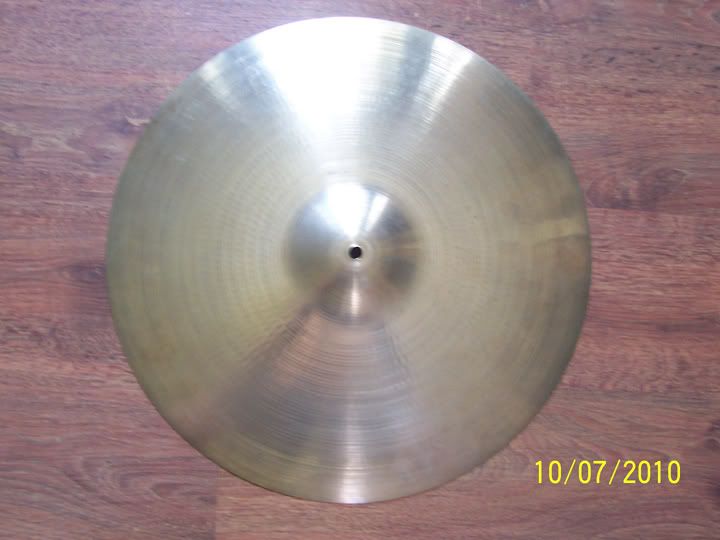 Little Montage. Nothing professional just to give an idea...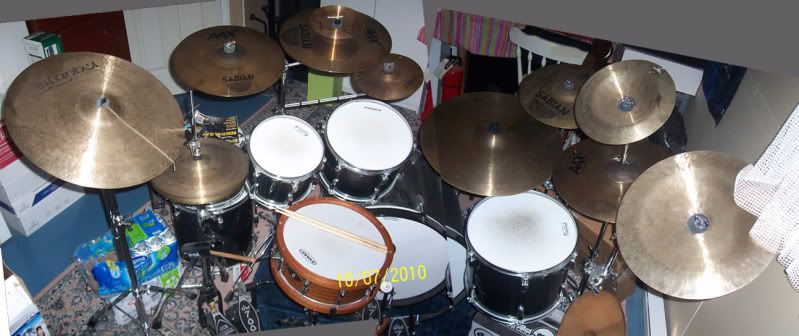 Cymbals from left to right
21" ISTANBUL MEHMET Custom Dry Ride
13" ISTANBUL MEHMET Traditional Flat Bottom W/ Holes Hi-Hat
15" SABIAN AAXplosion Crash
16" SABIAN AAXplosion Crash w/ INVERTED 8" PAISTE ACCENT
10" ZILDJIAN ZBT Splash
20" ZILDJIAN A Medium-Thin Ride
14" SABIAN AAXplosion crash
18" SABIAN AAXplosion crash
12" WUHAN china
18" WUHAN china
*Stored
18" ZILDJIAN A Medium-Thin crash
24" ZILDJIAN A Medium Ride
16" SABIAN B8 Thin Crash
18" SABIAN B8 Thin Crash
Drums: TAMA Swingstar Vintage Silver
8x10 with Aquarian texture coated batter & Classic clear reso
9x12 with Aquarian texture coated batter & Classic clear reso
11x14 with Aquarian Response II coated batter & Classic clear reso
18x22 with Aquarian coated Force I batter & REMO fiberskyn FA reso
*Unused (Gibraltar R-Class Bop Conversion kit installation)
10x13 with Aquarian texture coated batter & Classic clear reso
16x16 with Aquarian Response II coated batter & Classic clear reso
Snare
5.5x14 TAMA LTD Edition Oak Monoply and Cherry wood hoops with Evans Power Center Reverse Dot batter & Evans Hazy 300 reso
*Stored
3x13 REMO MASTEREDGE piccolo with Aquarian texture coated batter w/powerdot & Classic clear snare reso
5x14 LUDWIG ACROLITE (80s one) B/O round point badge with Aquarian Texture coated batter & Remo Ambassador snare side reso
5.5x14 MAPEX PRO M cherry fade maple snare (stock batter & reso for the moment)
5.5x14 TAMA SWINGSTAR matching wood snare with Aquarian modern vintage batter & Classic clear snare reso
6.5x14 DB steel snare with Aquarian Focus-X coated w/powerdot batter & Classic clear snare reso
Hardware
Roc-n-Soc Tractor style throne with backrest (manual spindle)
DW 7002PT double pedal (double chain)
TAMA HH905 hi-hat Stand
TAMA Snare Stand & Combo Cymbal Stand
GIBRALTAR maple wood beater, cymbal arms, percussion mount, drop clutch and stacker
PROMARK Basket stick holder
*Stored
TAMA P10 bass drum pedal
MP bass drum hoop cowbell mount
*Stored Percussion
MP 6" Cowbell
MP green low pitch jam block
MP blue high pitch jam block
RHYTHM TECH DST black tambourine
Custom Maple Rimclick Wedge
Sticks
Vater Session
(and many others from various makers)
Last edited: