I finally made some real progress on updating my Rocker kit so I thought I'd post up some quick and dirty pics and the background of the kit.
I've had this kit for going on a couple of years now. Mid 80s Ludwig Rocker kit, used but not (too) abused, with a black wrap finish. This has been my "throw it in the car and go" gigging kit and it has served me well, but I knew it deserved a little more care and attention.
I briefly owned a Vistalite kit, and played a '68 Psych Red kit in college so I've been dying to get back in the Ludwig saddle. I wasn't really looking for another kit when I happened into the Rockers, but I thought in spite of their "budget" status I might be able to make something nice out of them. Knowing they were Monroe-made maple/poplar shells just made me even more excited to find out whet they could really do.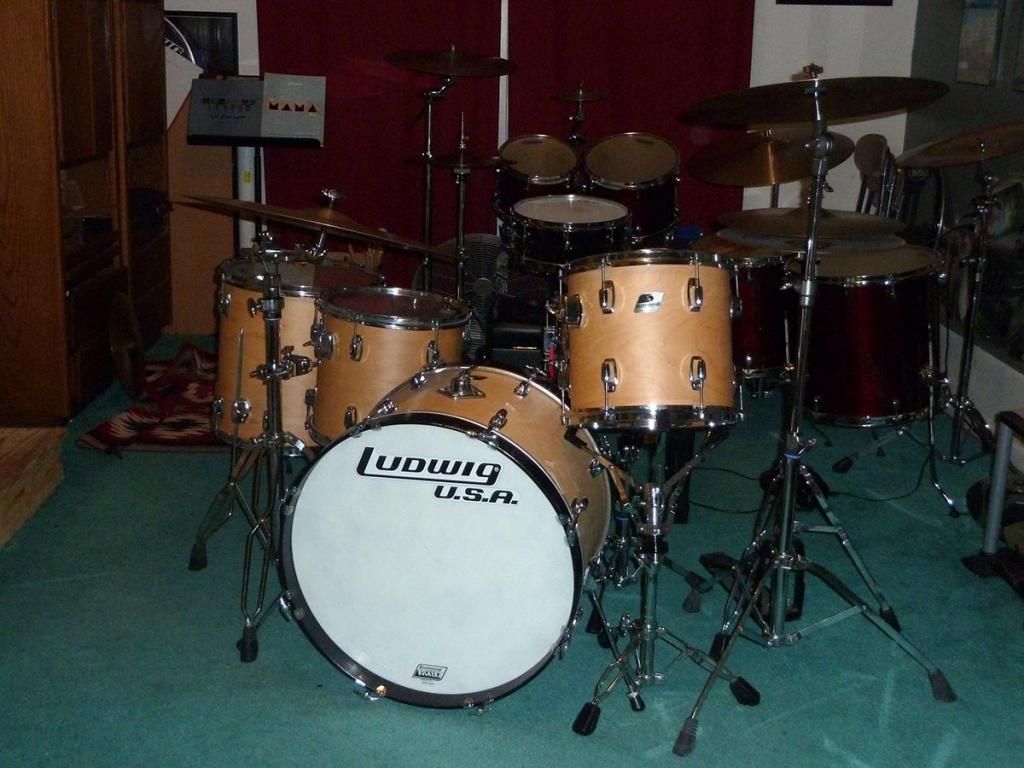 The finish was lifting and rippling on all of the drums, and a few lugs were broken. I got enough lugs on eBay to get the 12, 16 and 22 up and running back when I first got it, but the 13 was taken apart for donor lugs and a little experimentation. Last week I decided it was time to really begin overhauling
all
of the drums and get them all working and looking great. Off with all of the wrap!
In removing the wrap from the 13 I discovered that the raw shell was nice enough, so I knew if the others matched going with a natural finish was an option. I considered a few other vintage wrap options like Sky Blue Pearl and Psych Red, but once I committed to unwrapping all of them and finding all of the wood looked great I decided showing off the shells was the best choice.
Once I had all of the wraps off I had to take care of the glue residue from the tape used to hold the seam down. Removing 30-year-old glue was a lot harder to do than I thought it might but with a pad sander and a lot of sandpaper I sanded the shells smooth and got all of the glue removed.
I decided on clear satin because I thought it would be a little more forgiving with my lack of refinishing experience but it really does look great too. I did four coats, lightly sanded after each one. I was really surprised just how easy it was and the finish came out really nice.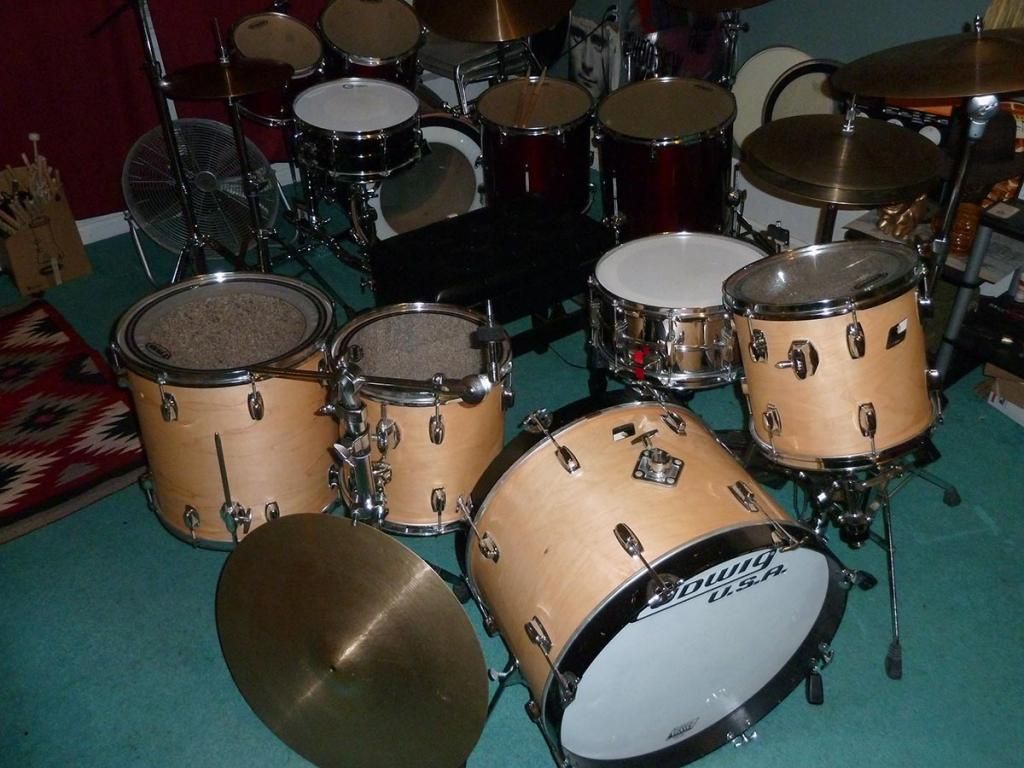 So now I'm SUPER excited with these. They look great, but most importantly they SOUND amazing. There is something about the Ludwig sound, and these drums certainly have it. I love my Mapex kit too, but they sound completely different. They're very clean, very "contemporary" for lack of a better word, but the Ludwig kit is the exact opposite. Normally "fat and dirty" wouldn't be much of a complement, but that's how I'd describe the Rockers, and I love them for it. They're a joy to play!