Okay, i was sick of the forrest of music stand tripods around my kit so i wanted to get some LP mic claws. Then i saw the "on stage stands" DM50 mic holders really cheap on ebay (go figure) for like as cheap as 8 bucks each plus ship:
http://cgi.ebay.com/6-PAK-DM50-DRUM-RIM-MICROPHONE-CLIPS-FREE-SHIPPING_W0QQitemZ360114940713QQihZ023QQcategoryZ47089QQrdZ1QQcmdZViewItemQQ_trksidZp1713.m153.l1262
So i got 1 to see if it would clamp onto my die cast rim. It could. Problem was (and i wasn't thinking when i bought it) that it wouldn't work with my RIMS style suspension mount. Being the industrious and creative hardware guy, i was determined to come up with a solution. So i drilled out the bolts that attached the clip to the bracket, unscrewed one of the bolts on my suspension mount and then just bolted the bracket right onto the suspension mount recieving plate and it ended up looking like this: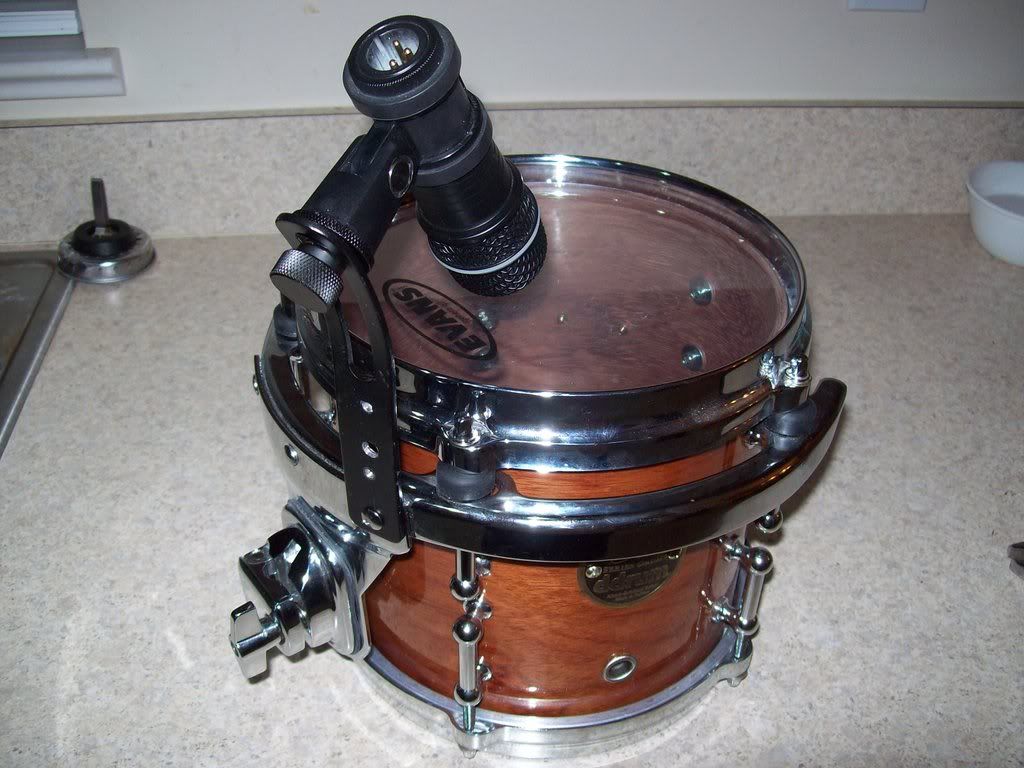 So then i figured, hell, why i don't i just find a bolt to bolt this sucker on the inside of the drum?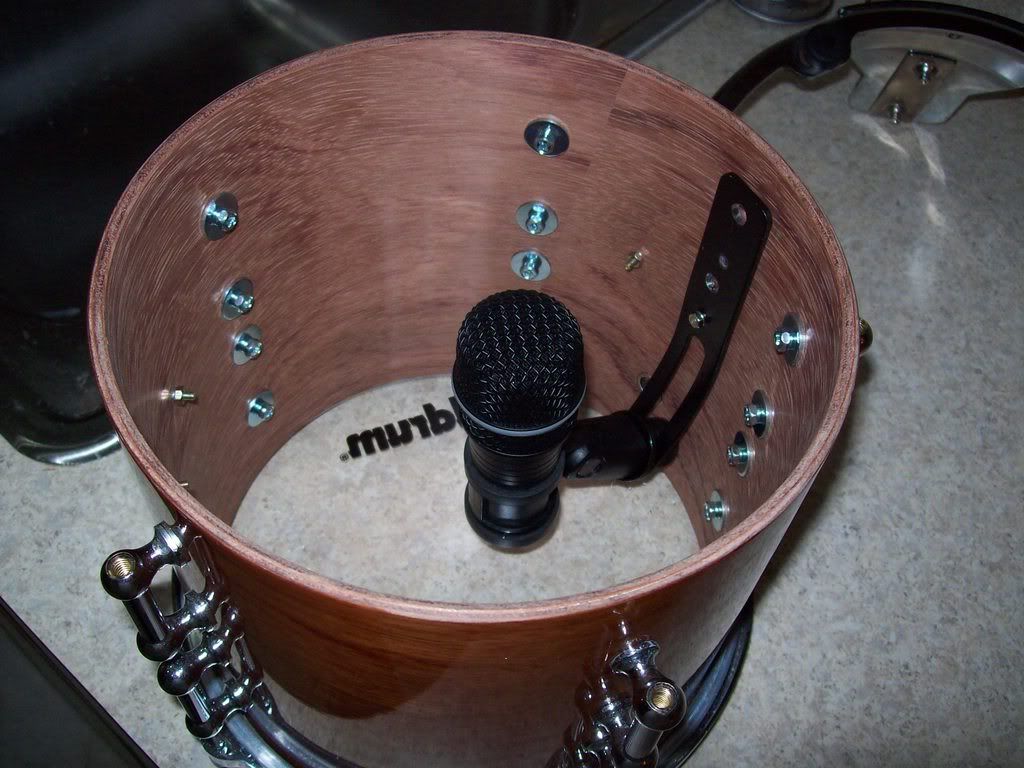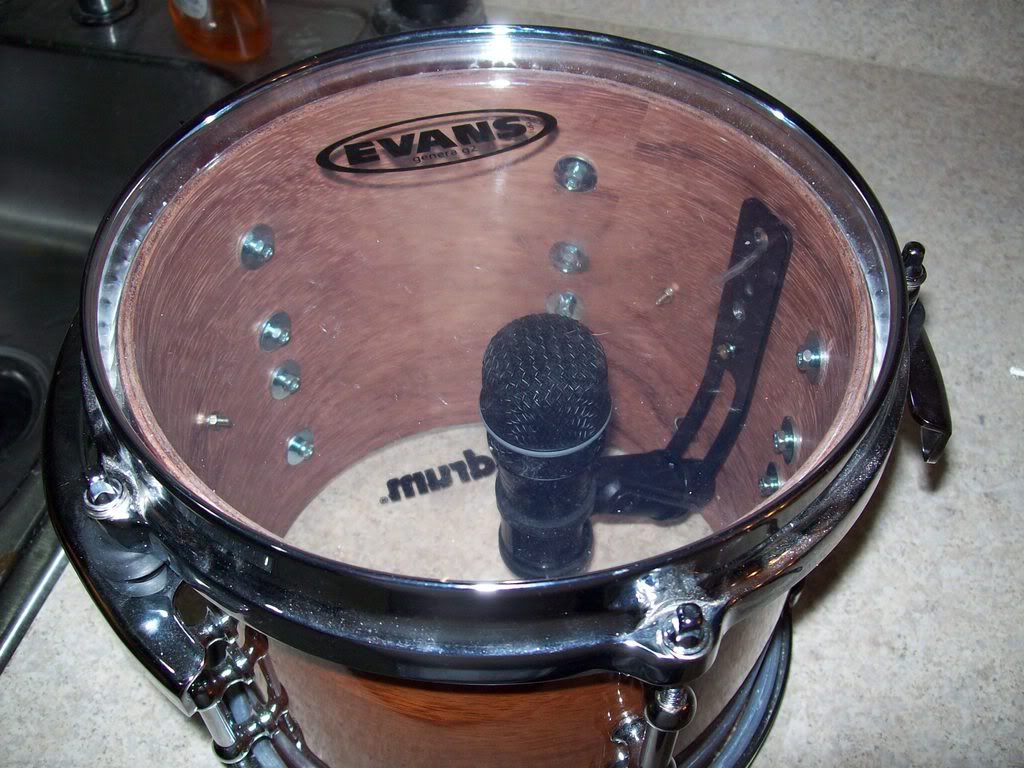 bottom view: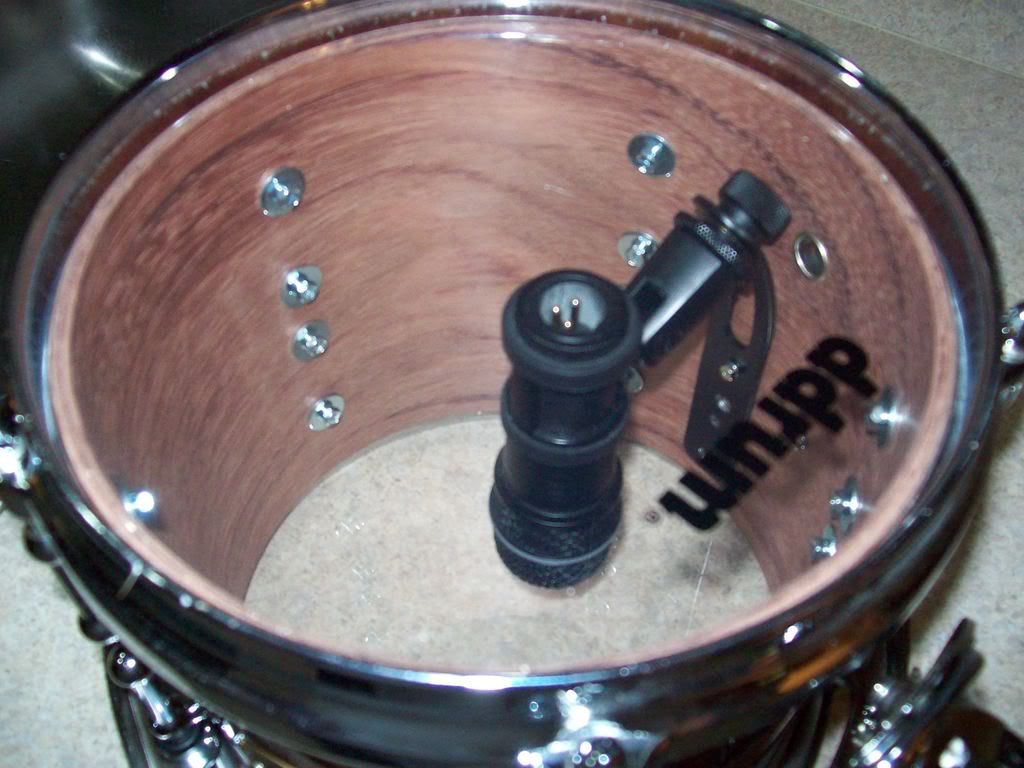 Now to make this all happen, i had to use a c-clamp, a sturdy bench, a drill with a 1/4" and a 1/8" bit for metal drilling. I had to put 2 holes in that bracket that weren't there. For the internal mic'ing, the bracket bolted right onto one of my badge bolts so no drilling was necessary. I imagine using lug bolts could work too, if they're spaced out enough. Now to get the cable connected, i'll probably put holes on my resonants with a 2" drum O's kit:
http://www.indoorstorm.com/Drum_Accessories_Bass_Drum_Os_Rings-c-40_121.html
or just rewire some cables after stringing them through the port hole.
I think my bass drum's badge is right on the top, so i'm gonna use the same bracket and then just drop the mic closer to the strike point with a small gooseneck
Now the guy whose ebay auction i listed just sold me a 6 pack of those mic holders on sale for 8 bucks each so just offer him that much and i'm sure he'd take it.
Internal mic system= $8.00 if you have a drill.
Merry christmas to all, 'twas my gift to the drummerworld community.