So, after about 6 months I finally have together a setup and kit I'm happy with. It's taken a whole shed-load of research and hunting and spending a good deal of money but I'm pretty much there.
Here's some snaps I took at rehearsals yesterday: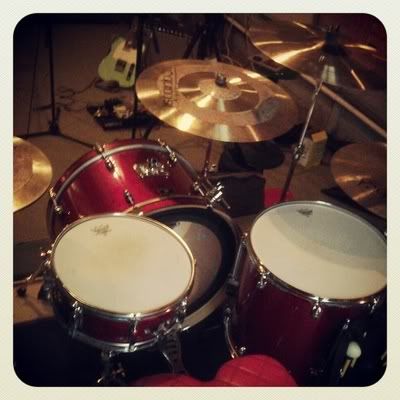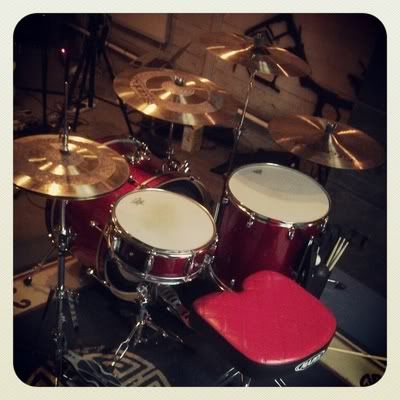 The whole lot consists of:
Drums:
Gretsch Catalina 22"x14" kick drum (cut down from an 18")
Gretsch Catalina 16"x16" floor tom
Mapex 13"x5" Snare
Cymbals:
Istanbul Sultan 14" hats
Istanbul Sultan 20" ride
Istanbul Traditional 20" Sizzle ride
Istanbul Alchemy 18" Medium Crash
Gibraltar flush based hardware except the snare which is on a Big Dog.
Kick pedal is currently a 50's Premier Speedmaster
There is a 14x5 Black Beauty snare currently in UK customs that will replace the relatively nasty Mapex one and a I have an order for 3 splashes with my regular shop for me to pick my favorite out of and send the others back. Then, I think I'm done for now!!