Hi there...BRAND new to the forum. I have been setting up a home studio for the last few months and have been looking for a good kit for recording. Drums are not my primary instrument but I do play...but mainly it will be a house set. I will be playing/recording everything from rock to jazz to country and am looking for a good set that will do relatively well at each style. It's really least important for it to be able to do super-heavy rock/metal...more important to record well with indie-style rock, country, jazz...more room-mic centric rather than super-technical mic-every-tom-twice kind of styles.
So all that aside, I have been scouring around for a used set. A guy near me has a Premier Cabria...made in England in the late 90's or early 2000's.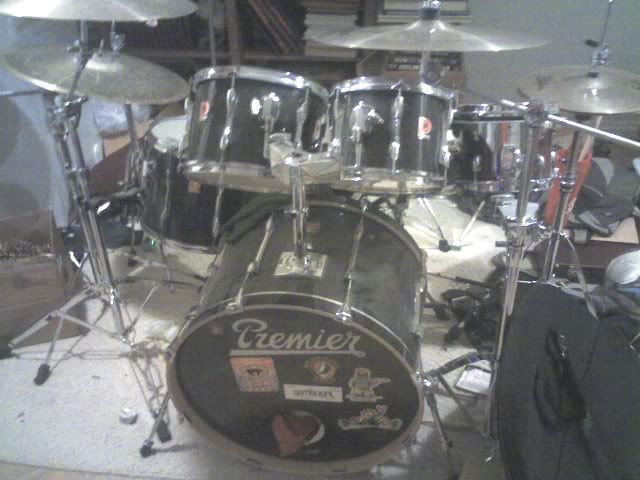 Bass drum is 20x18. The toms are 10" x 8" and 12" x 9" rack toms and a 14" x 14" hanging floor tom
Hardware- 4 stationary cymbal stands and one that mounts in the tom rack, dw 5000 double bass pedal, premier single pedal, hi-hat stand, and a Gibraltar stick holder.
Cymbals- set of 13 inch Zildjian A Custom hi-hats(in good condition), 16 inch Zildjian A crash cymbal (good condition but the markings have come off), 18 inch Zildjian ZHT crash cymbal (has a piece that has cracked and bent but still sounds ok), and a 20 inch Sabian Solar ride cymbal (good condition)
Other- Cowbell, drum practice pads(for quiet play), sound rings, top batter heads are Evans and have some wear from play, bottom resonant heads are the original Premier brand.
I think he would take $700-800 for the whole deal.
From the research I've done, it looks like they are 100% mahogany shells.
Some of my questions:
Will this kit do well for my needs? Does this seem to be a good deal? Should I hold out for something better like an all maple/birch Yamaha Stage/Tour Custom, Gretsch Catalina, Mapex Meridian, etc.?
Thanks for ANY help you can provide.
Last edited: