At the music shop I work at, we have a new-old stock Pork Pie kit that we've had since '04 that I've kept my eye on (casually) for a while now. After playing a friend's pork pie kit last night, I decided to set it up in store and play it today before a drum lesson and was very, very pleased with the sound it produced with minimal tuning.
Anyways, I say all this to say - I'm considering making an offer to the shop's owner about possibly purchasing these drums. Without going too far into detail, I can confidently say I could take them home for $1200 + tax ($1296.41 with NC Sales tax)
Included is a 16" floor, 12" mounted, and 22" kick (rather normal sizes)
Kick is 9-ply maple, toms are 6-ply maple.
Also thought I'd add that they are a Silver Sparkle Wrap, not a lacquer.
Attached are multiple pictures.
As of right now, I have 2 ddrum diatribe kits (technically one, same color, so I swap different pieces out at my own will. 20" and 24" kick, 14" snare, 10"& 13" Mounted toms, 2-14" floor toms, and a 16" floor, and this kit is a birch/basswood combo) and while I adore the sound of that kit, the Pork Pies would be in my opinion and end-all be-all for my drum purchases unless something else came along.
Anyways, for $1200 (with a slight chance of paying a small amount less less) is it worth snagging a custom made Pork Pie kit in your opinion?
While I do have the funds necessary to buy this kit outright, I'm still on the fence, as I have yet to make a purchase of this magnitude at one time throughout my musical equipment dealings.
You can also hear/ see this kit in The Almost's music video for No I Don't -
http://www.youtube.com/watch?v=4QFvQi6CheI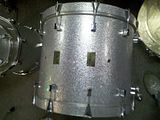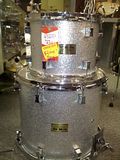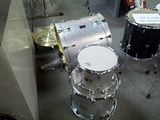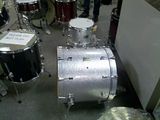 Last edited: