Took a couple hours to set my kit up on my deck along with my finished and not quite finished snares. For those of you who have not seen my previous build threads, the kit is a Pearl Masterworks drumkit which I bought piece by piece in various colours. 8,10,12,14,14 ans 22.
The chrome was powder coated with translucent blue and the rack and boom arms were powder coated gloss black. The kit finish is 2 mil vinyl vehicle wrap, using photo's I purchased from a photo sharing site. The snares were mostly built by me.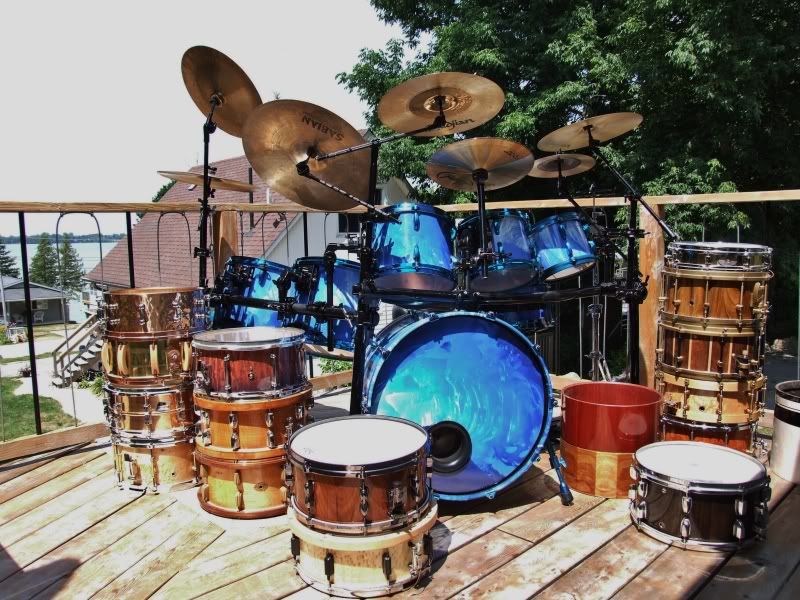 Left pile top to bottom, 4 1/2 taiwan hammered bronze shell. parts currently on loan to finish another drum.. 6 1/2 solid brass custom with maple lugs, custom etched finish. Ludwig 6 1/2 bronze import. and at bottom, a custom hybrid, 7 X14 solid steam bent shells, formerly 1920's Ludwig and a 1950's birdseye Radio King. 2nd pile, a Keller maple shell with a plastic faux wood finish, bought this drum for parts. 6 1/2 maple Sonic shell with a wood veneer and Gibraltor maple hoops, very nice sounding snare from a budget priced build. Bottom, 1947 Slingerland 7X14 with Stellar wood hoops and powder coated originally nicket beavertail lugs.
3rd pile, a Walnut stave 6X14 using Tama Superstar smoked chrome hardware. And another hybrid built with shell scraps, birdseye veneer. 2 unfinished shells, top is Canarywood, bottom is Tigerwood (I think), next, by itself, a cherry stave 7X14. right pile, 3X13 Brass Pearl picollo, 7X14 Elm stave with Allstar lugs and a Dunnet throw. 7X14 Walnut stave with Maple stripes. 5 1/2X14 Birdseye maple with DW tube lugs and throw and wood hoops fastened with polished brass antique claws. And bottom another Walnut stave with a Burl Maple veneer. And finally, the white and black is the 15X12 tom of my soon to be completed Cherry stave kit.