This weekend, to kick off spring break, my family went to Virginia Beach, where I visited Alpha Music.
Now, this was not your ordinary, run-of-the-mill local music store. Alpha music is like Guitar Center, except 200 percent better. The staff are friendly, they have a HUGE selection (like, bigger than some online stores), and you can try most stuff out, with the exception of the drum sets.
After lots of trying out different cymbals, cowbells, and snares, I finally decided on my new cymbals:
A complete set of Zildjian Planet Z's! What more could a man ask for???
But in all seriousness, that was just the box that my stuff came in. What did I get?
Well, first I took a look at the drum heads:
I've never seen so many drum heads in my life--what a variety! Hundreds of Remos, Aquarians, and Evans...and to my extreme surprise, I found
EXACTLY
what I was looking for--an 18" Remo Ebony Pinstripe.
Finally! My kit's head color scheme is complete! Snare is white, toms are all black, and, which I forgot to mention...
My new Evans EMAD, complementary of Evans! I even got, from Alpha Music, an Aquarian double kick pad for it. And this head ROCKS! It's super responsive, punchy, and deep. I love it.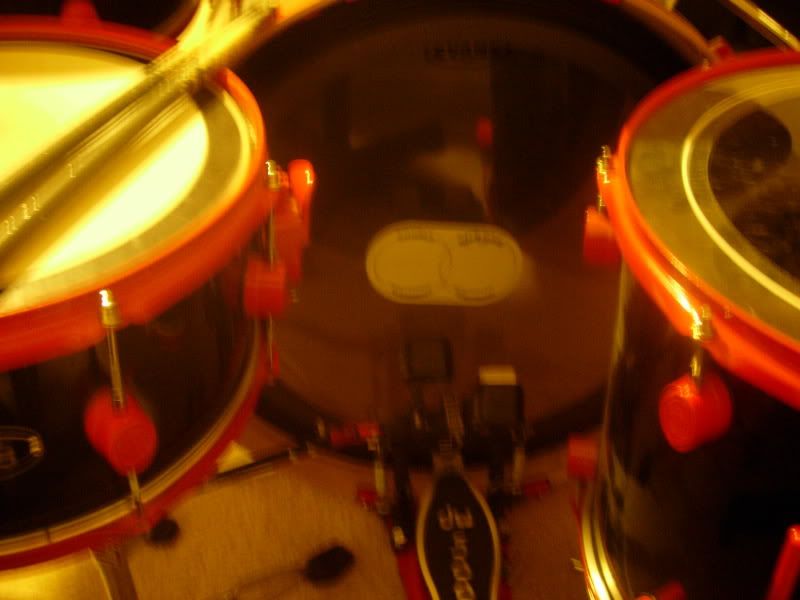 Also, when I got my Roc-n-Soc Nitro, I forgot pictures. Well, this throne is not only SUPER comfortable, but it makes my kit look twice as classy, and completes the aesthetics of it, complementing the red and black PERFECTLY.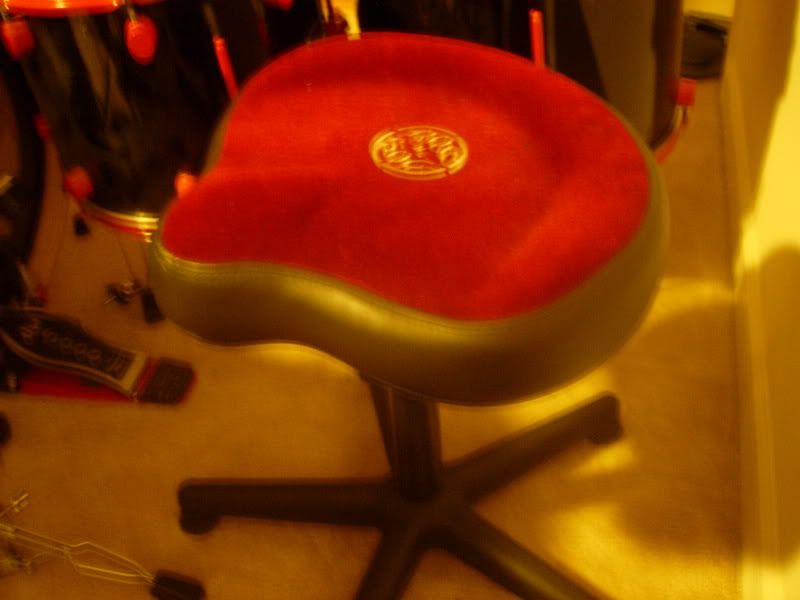 And it also holds me up much stronger =)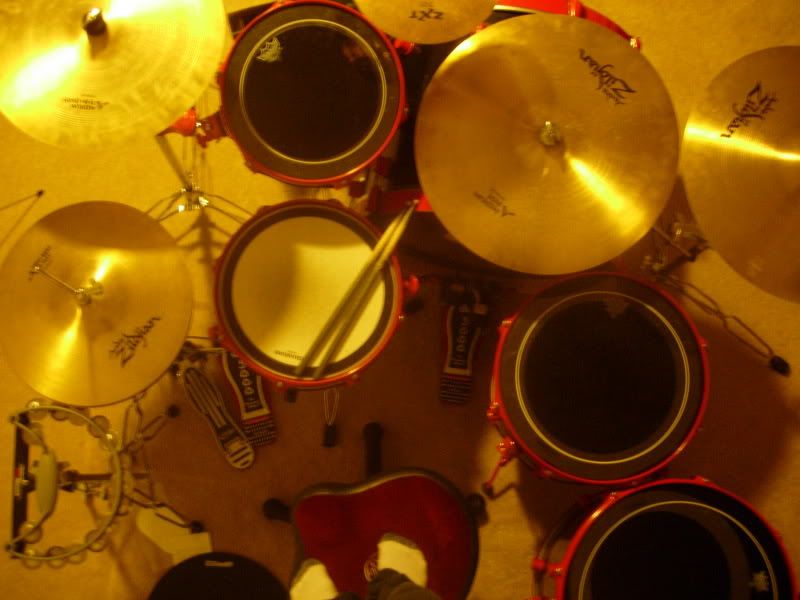 Anyways, I hope you enjoyed this post--I know I haven't been posting in a while, I've just been really busy and stuff.
I think I'll make a video soon of me actually playing it--finally, I'm completely satisfied (you could say enthralled!) with my kit's sound. Everything's pretty much perfect.
UPDATED SPECS
24" PDP 805 bass drum
-Evans EMAD / stock
14" PDP 805 snare drum
-Aquarian Hi-Energy / Remo Diplomat hazy
13" PDP 805 rack tom tom
-Remo Ebony Pinstripe / Aquarian Performance II
16" PDP 805 floor tom
-Remo Ebony Pinstripe / Aquarian Performance II
18" PDP 805 floor tom
-Remo Ebony Pinstripe / stock
------------
14" Zildjian New Beat hi hats
16" Zildjian A Medium Thin crash
18" Zildjian A Medium Thin crash
20" Zildjian A Medium ride
10" Zildjian ZXT Flash Splash
------------
PDP HH800 hi-hat stand
PDP CB800 boom stand
PDP CS800 straight stand
PDP SS800 snare stand
Dixon Lightweight boom stand
Pearl CH70 cymbal holder
Pacific 700 straight cymbal stand
------------
DW 5002AD3 Accelerator double kick pedal w/ Aquarian double kick pad
Roc-n-soc Lunar throne, red
Ahead Joey Jordison drumsticks / 5B Vic Firth rock maple
Flip Video camcorder / JVC Everio GZ-MG555
Vic Firth SIH1 headphones
Last edited: