Hey y'all, thought I'd show my face again over here and share my current setup as I had an extended practice session at my local studios (had some free time down there so thought I'd go make a noise)
My main kit...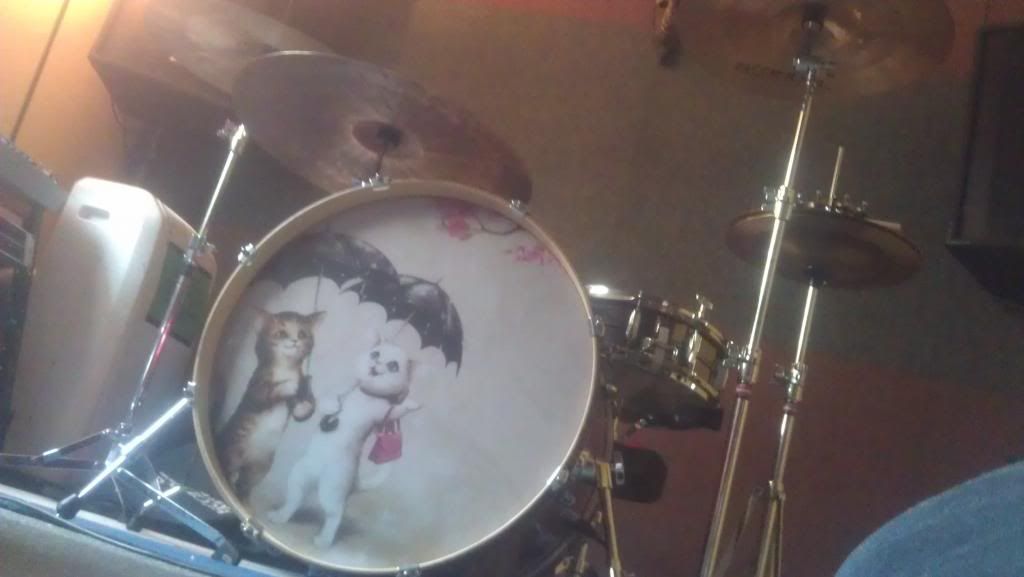 Shells are Gretsch Catalina in red sparkle, 16x16 floor tom and a 22x14 kick. The kick I got cut down by a local retired drum builder from an 18" deep. I can't get on with modern depth kicks...not enough response for me. Snare is a 14x5 Ludwig Black Beauty... just everything I could ever want in a main snare. All the Hardware is Gibraltar flat-based stuff and I'm very impressed... I hit pretty hard and they never move. Pedal is an old Speed King that I've mounted on a 3mm steel baseplate.
Heads are all Aquarian... Coated Response 2's on the snare and FT tops and single ply clears on the resos. SuperKick 2 on the bass batter and a standard single ply reso - custom printed by Rock Star Skins here in the UK. I don't know why everyone hasn't moved over to Aquarian yet...their heads just seem to last forever. I would wear bits off the coating off a new Remo snare head in a good day session but the Aquarians just go on and on and on! Plus they're cheaper.
Cymbals, I only use Istanbul Agop. Hats are 14" Sultans, med weight, an 18" Alchemy Medium Crash, a 20" Sultan Ride (used as a large crash) and a Special Edition 22" Jazz Ride which is beyond amazing. It's only about 2050 grams and wobbles if you even look at it sternly! The pitch of the thing is so low it blows my mind. All of Agops cymbals are so nice. So much more character than the Big 3 product and 100% handmade (and often cheaper!)
and next is...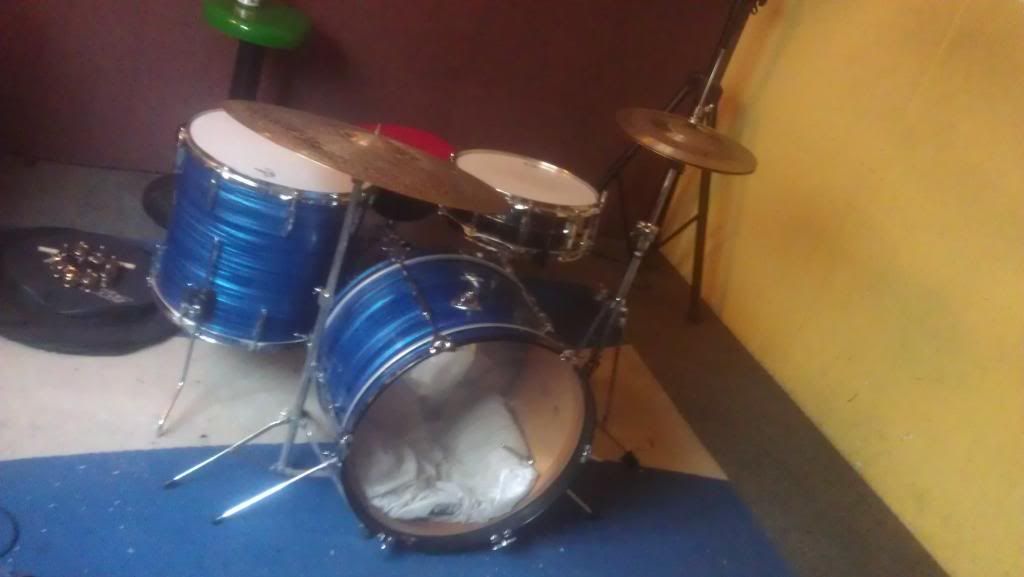 This is something I've been slowly tinkering with for a while but not really bothered with until recently. It's a late 60s/early 70's Premier Olympic kit. 20x14 kick, 16x16 Tom (plus a 10" tom I dont use). I got given this by my father-in-law who had it sat in his workshop since he had a punk band in the early 80's. It was absolutely filthy (I initially thought it has grey wrap!), and came with a bunch of old junk hardware, its original Premier hi-hat stand, a rare original Trixon snare stand and a 1'st gen Tama Cobra pedal. Plus some seriously awful old AJAX cymbals that now live on my wall.
A few week ago I finally got around to getting it playable. I stripped it all down, cleaned and polished the shells, renewed the bearing edges, cleaned and polished every lug, greased every thread and joint.. blah blah blah... Slapped on some new heads I had lying around for the FT and tuned up the OLD "Ludwig Rockers" kick heads.
It actually sounds not half bad! New kick heads will help that a lot but that little 20 is like a pocket cannon! And the FT has some serious tone. Single plys on that have a great long old school tom note that is really fat... a nice balance to the punch from the kick. The 20 is gonna get a 1 ply reso and 2 ply batter with felt strips to keep everything singing well together.
Ive been using this as my garage kit and it's bringing out more hiphop and funk chops than grunge and post rock thumps. Really enjoying this (worthless) old kit
Anyway, that's quite enough for now I think. If you wanna know anything about any of this stuff just ask. I always read threads with peoples opinions/questions about gear that educate and entertain me so this is just a little contribution from my side
Johnny