This is my drum kit. Before anyone spots the fact that it's the lower level Sonor Force series 1007 Stage 2, let me say, in my defense, this drum kit has been refinished (as anyone familiar with Sonor drums will spot right away), the bearing edges have been re-cut, and the hoops have been replaced. You'd be amazed how good these drums sound for basswood shells. The snare drum is a late 70s or early 80s Tama Swingstar.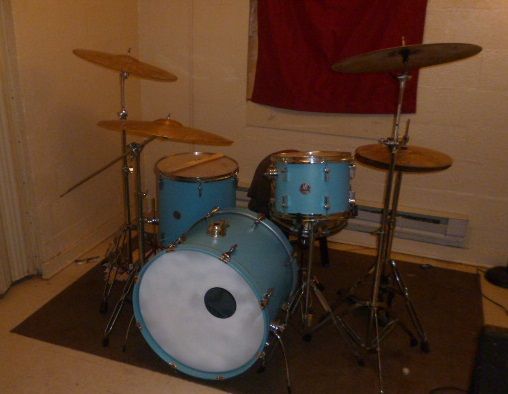 The cymbals are
16" hi-hats (Sabian Pro Series thin over Sabian B8 Pro Medium)
20" Sabian B8 Pro ride (used as crash)
22" Zildjian ZHT ride
20" Zildjian ZBT ride (used as crash)
The ZBT has been modified with a lot of hand hammering
The stands are PDP and DW. and sticks are Vic Firth's American General SD1
I use a Yamaha 7210 strap drive pedal.