Hey everyone,
I was getting set to buy new Tama Speed Cobra 910 double pedals but RonCadillac (another member) provided me with some super helpful feedback so I'm looking for something that will better suit my needs/skill level. I'm 50 years old and while I'm athletic enough, I'm no spring chicken LOL. And I'm completely new to double bass pedal play. I consider my skill level to land somewhere between a good beginner and crappy intermediate player lol. I can play but my technique needs a lot of fine tuning.
My kit: Tama Silverstar w/ Sabian 14" AAX stage hats, 16" & 18" AAX crashes, 22" HHX china, 8" Paiste splash, and a super pricey Ludwig Supraphonic snare that I think I want to replace (not sure I dig having a metal snare). My current double pedals are really old 2nd generation Iron Cobra's and while decent enough, I'd like to upgrade.
I appreciate and listen to just about every genre of music but heavy rock & metal are what I listen to most.
So. . . . .Now that I've rambled long enough. . . . . . .I already posed some of the below pedals to RonCadillac and I figured I would get some more opinions (the more the better) and ultimately, I'll go with my gut. But I guess the idea is to find some great high-end pedals without going much over $300 or spending beyond my potential just for the sake of saying I have cool pedals. That's not my intent. I'm never going to be in an ultra fast speed metal band. I just want the pedals to be super smooth and for me to eventually be able to get really good at the technique.
Of the 3 pedals below, while I'm a Tama guy, I kinda think I'm leaning towards the Pearl's, given how many favorable reviews I've read on line for the price point. Thenit would be the Tama 600's. (I only threw the 900's in there in case I decide to go crazy but it sounds like those are just more than "someone like me" needs").
The more opinions and other options people can provide me with, the better. I'm looking to ordering this week. (I figure I'll be able to make some money on my current Iron Cobras to help with the cost).
Thanks!
Pearl P932 Demonator Right Footed Single Chain with Interchangeable Cam Powershifter
https://www.amazon.com/dp/B00BIBBJ46/ref=cm_sw_r_cp_api_i_eRclFb5J59Y9Z
Drum Workshop, Inc. 3000 Series Bass Drum Pedal, Double (DWCP3002)
https://www.amazon.com/dp/B003H8Z732/ref=cm_sw_r_cp_api_i_6PclFb7QN43DY
Tama Iron Cobra 600 Series Double Bass Drum Pedal
https://www.amazon.com/dp/B00BCEKISM/ref=cm_sw_r_cp_api_i_OQclFbPFSBCS2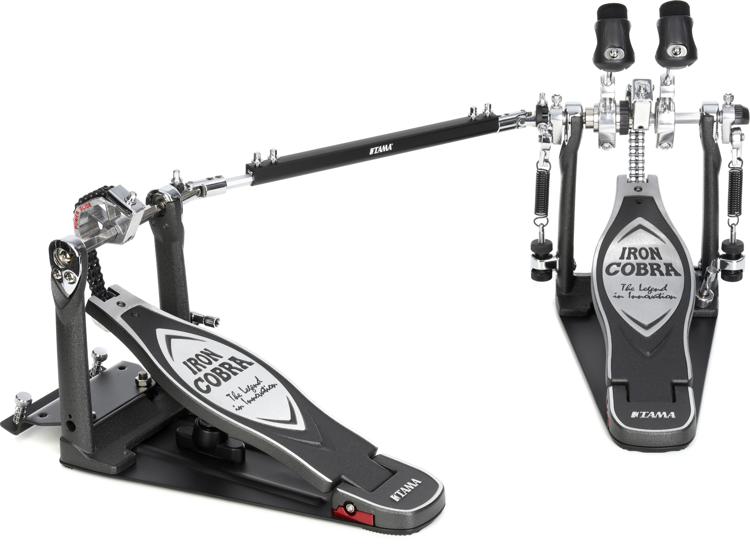 Dual Kick Drum Pedal with Iron Cobra Coil
www.sweetwater.com