Okay, it's taken two months to get it in more or less final form. This is from
www.spiritdrums.com
, drums made of solid-shell Cooktown ironwood from Australia.
All drums are square sizes, 8 10 12 and 14 inch toms, 18 inch bass drum, snare is 13 by 4. Cymbals are all Zildjian A Customs, 20 inch ping ride, 13 inch hats, 17 inch crash, 12 inch splash, 8 inch splash, 18 inch China.
Accessories include Pete Englehart agogo bells and foot-operated talking drum from
www.b-radpercussion.com
and LP plastic block foot pedal.
Hardware is mostly DW, Tama hi-hat stand with legs removed and custom fabricated cymbal stackers, bass drum cradle and foot percussion holder, Gauger aluminum RIMS mounts.
All heads are Remo Fiberskyn FAs batter and coated Ambassadors resonant. Bass drum head of Spirit Drums logo by
www.drumart.com
.
Sticks are wok chopsticks mostly, with Vic Firth brushes, Trilok Gurtu signatures, assorted mallets and plastic brushes and rutes.
Below are the three clips I have so far - the swing-type playing and a song we call James Bond in Matanzas. I was playing my left-foot clave rhythm and this keyboardist I play with started playing along. It's a rough first cut and we are going to refine it. Blue Veil is a song on the Hang Drum.
http://www.drummerworld.com/forums/attachment.php?attachmentid=28720&d=1252687553
View attachment 20313
View attachment 20314
View attachment 20315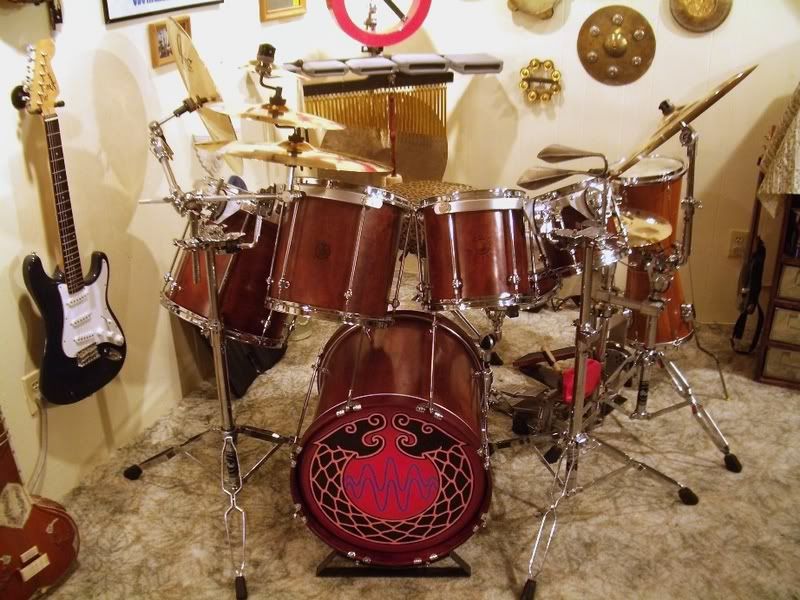 Last edited: