Hello all!
I thought you guys maybe would appreciate me sharing my little project I recently had; building a snare drum out of a PVC-pipe. I don't know where the idea came from but I've been into experimenting with drums alot so, a snare drum out of a PVC-pipe.. why wouldn't that work? ;P
The snare drum has the sizes 13x5". 14 inch is for later projects
So let's begin the presentation!
Here the package arrive, shipped from the US. I bought the piece from an American company called "FlexPVC"(
http://flexpvc.com/
) for 12.5 american dollars (just for the 13x5 inch pipe), but since I live in Sweden it got a little more expensive due to shipping cost and taxes :/ I had hope to find a dealer here where I live instead but couldn't really find any, not even other countries inside the EU, so had no choice other than USA.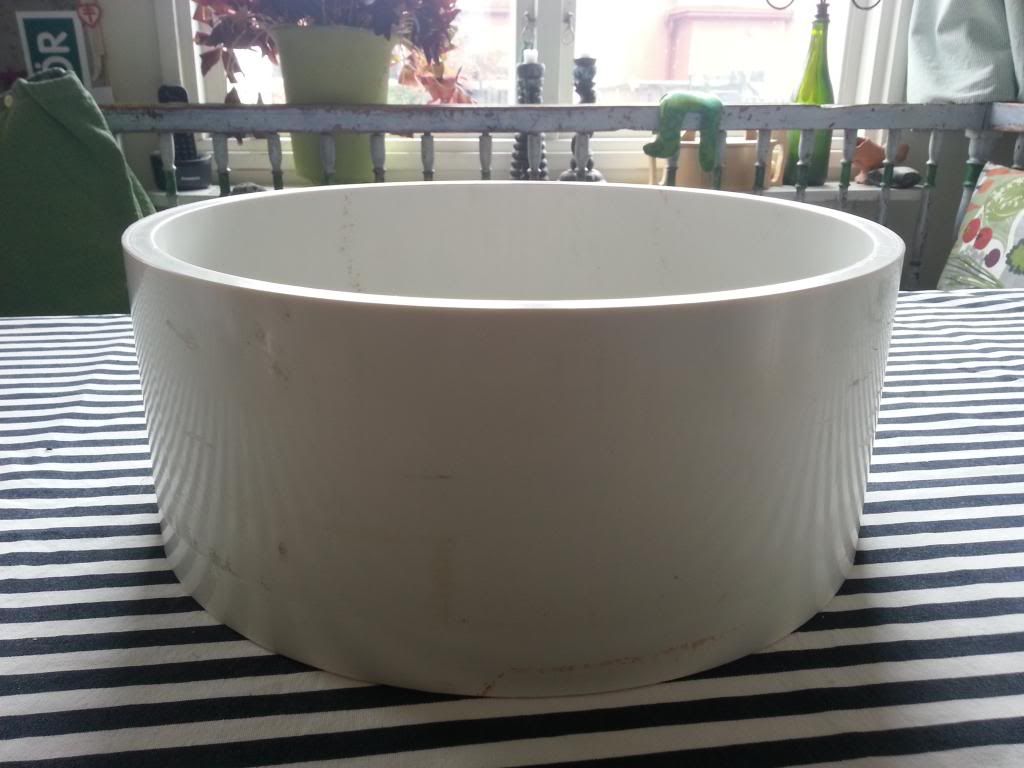 The pipe itself was pretty dirty. It also had some scratch marks on the outside of the shell, but other than that it looks really good. The shell is pretty heavy and about a centimeter thick. The resonance is very dense. Not much resonance at all but it has some tone to it.
Here I'm doing some cleaning work. I used something called Autosol (it's like a cream that cleans with a lot grains inside it, like sandpaper) to remove all the dirt, plus the red text that you can see on the picture.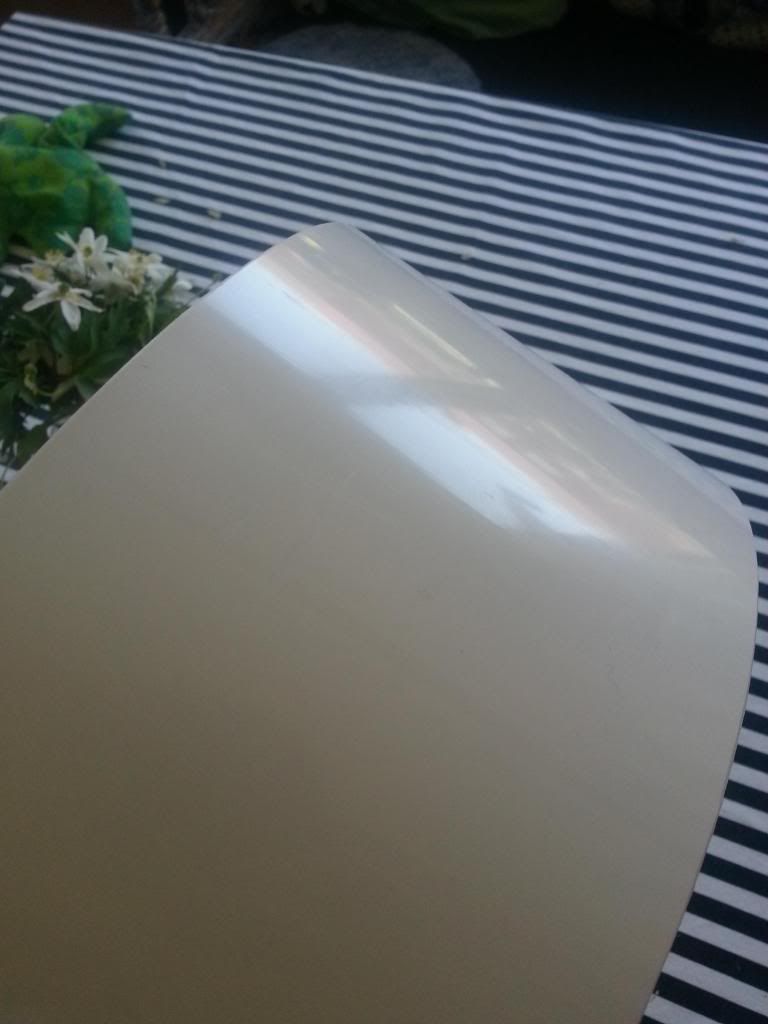 Here it is when its clean and shiny! but it was more work than I expected
I bought the hardware from "Thomann" (
http://www.thomann.de/
), a large company from Germany that sells a lot of music gear and stuff. You can see that I bought some S-hoops for the snare. I've never tried them before but I thought it'd be cool to try out on this project
you can also see that there's a Remo Clear Controlled Dot. Dunno what I had in mind there but I've seen some drummers using that as a snare head. It'll look cool too
I also have an ambassador laying around if I don't like the clear dot. The snare strainer I bought were apperently for piccolo snares but it worked pretty fine for the 5" depth snare in the end as you'll see. The snare wires were some cheap ones that I've now replaced with Puresound.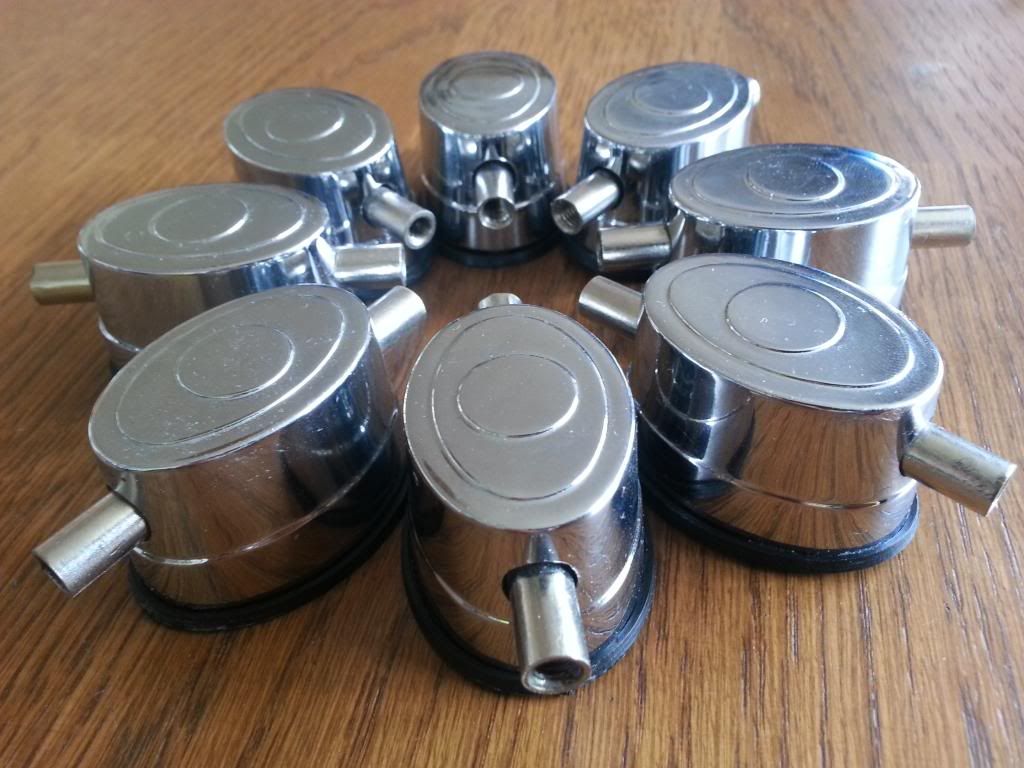 The lugs I'll be using is from a PDP snare I had lying around.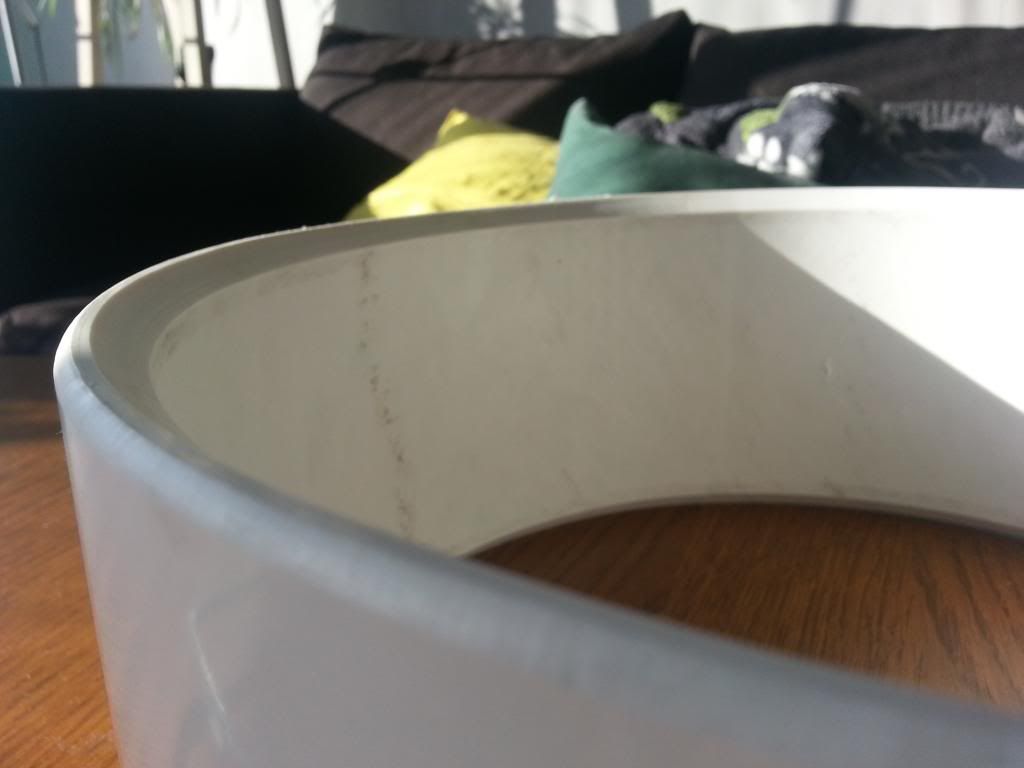 Now for the real work. I gave the drum shell to a local drum builder to cut the edges. I don't know what to think but this person said it is "better" to have round edges because it let's the drum head vibrate more. I mean, who can say it's "better" having round edges than sharp edges? It certainly makes difference on the sound and feeling depending how the drum edge it shaped but.. heck, I didn't argue with him so I just let him do the best with it.
When I got the shell back I was quite happy with the results, except, whats the deal with the untouched flat edge? Shouldn't it round off more? Have anyone of you seen this before? Also, I had to make the snare beds deeper myself because they where too shallow (did this after the project was "done"). I'll cut the edges by myself in the future.. Think I'm capeable of doing it and it'll also be much cheaper xP
I cut the holes myself though. Not much to say here except it was really difficult because you had to be so precise! If you wanna know how I did, just ask. Otherwise there's ton of information on the internet of how you can do it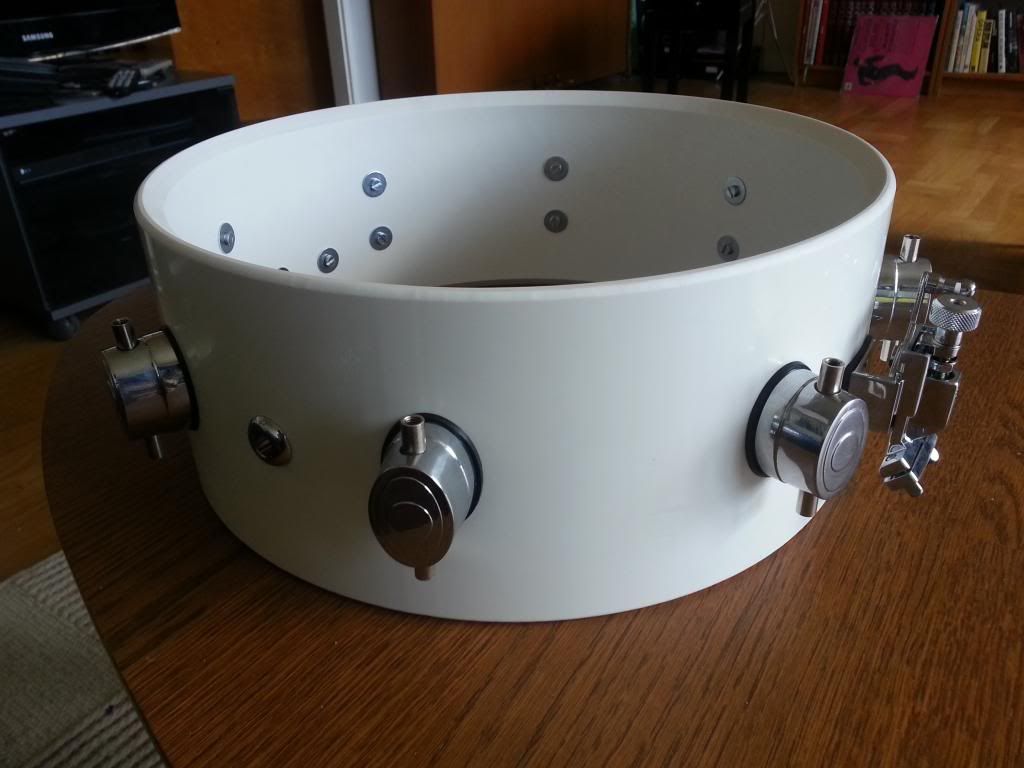 Now It's almost done! I did some extra cleaning and put on the hardware and...
...Viola! Looks beautiful to my eyes! What do you guys think? I just love how the inside is just all white. I'm pretty damn happy with what I've just created
I'd love to give some sound examples but I don't have any right now. It's difficult to discribe how the snare sounds like but I can say it has a lot of bite to it, probably because of the dense material but I'm no expert. The best way to let you now is to record it. Going to do it as soon as I got time for it.
I'm planning to do a similar project in the size 6x13" instead of 5 inch deep.
Maybe I'll post this snare drum on the "Sell/buy"-thread on the forum, but thats for the future!
Hope you guys liked my little presentation!
Please leave a comment!
/Johannes W