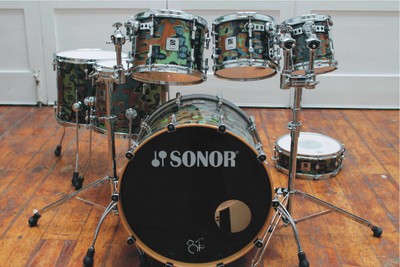 This is a Sonor Designer drum kit as used by Gavin Harrison (Porcupine Tree/King Crimson/The Pineapple Thief/O. S.I. and many others) in Earth finish, possibly the very first set that Sonor made with this finish, all maple shells.
The first Porcupine Tree news I've heard in years! He's auctioning off the kit used for Deadwing and Fear of a Blank Planet, among other material, to benefit multiple sclerosis. Hopefully that means research!
Deadwing has some of my favorite drum sounds ever, and I saw this kit in concert in 2007. It'll be interesting to see how much it ends up going for.