Hey, not sure where you would put this thread so I thought I'd put it here as it might be of use to someone.
Last week I asked over in the Gear forum about whether or not to drill and install jingles into my Agop hats as I always play with a tambourine draped over (which dramatically affected how they played and the weight!). With a resounding "NO" about drilling them I was forced to put on my thinking cap and come up with a solution!
So, here's what I did tonight....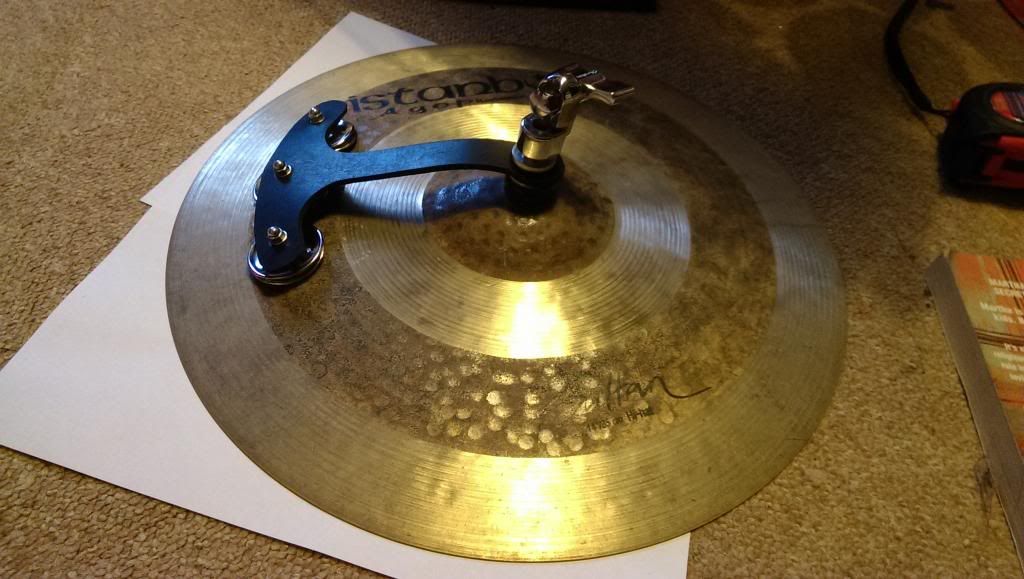 It's 3 sets of jingles draped over attached to some rubber.
Up close:
Top
Bottom
On clutch
The materials list is:
8" x 8" Square of 1/8" Neoprene Rubber (200mm x 200mm x 3mm) -eBay is good for this
6x Jingles from a Tambourine
3x 3/16" x 5/8" Pan Headed Machine Screws (zinc plated or stainless) (M4 x 16mm)
3x 5/32" Nylon Lock Nut (M4)
3x 3/16" Captive Nut (M4)
6x 3/16" Flat Washer (M4)
Drill bits to suit, screwdriver, SHARP cutting knife (exacto or similar), pencil and cutting board - DON'T DO THIS ON YOUR MUMS KITCHEN SURFACES!!
For those who can't work it out the bolt lines going through are in this order:
Machine Screw > 2x Jingles > Lock Nut > Washer > RUBBER > Washer > Captive Nut
So, basically you just draw out your shape on the rubber as carefully as you care to (I measured a LOT), cut it out carefully, drill the holes and install the jingles. The lock nuts keep the rubber away from the jingles and the overall height keeps the rubber off the cymbal. My original design had 5 sets of jingles but this choked the cymbal too much so I cut off the outer one on each side and tried again - and it works!! There's still a little bit of resonance taken out of the hat, but not a lot... and not enough to really notice with normal hihat work.
So, about £7 in cost ($10) and I've solved the problem without drilling my hats!