Moved this thread over here from another forum section..
Here's a few preliminary photos...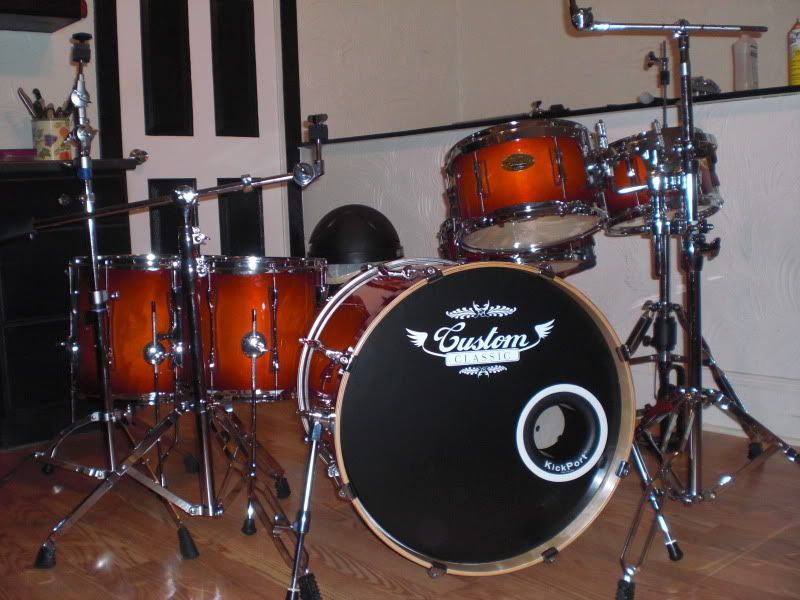 My first impressions before even setting assembling my new kit were that of a touch of disappointment.
I dragged all three cartons that the kit came in up the stairs leading to my apartment and began digging in.
Everything seemed to be carefully packaged, however there were baggies of tension rods - for the drums that required assembly,(which were all drums but the snare drum) that had ruptured during shipment and spewed pieces throughout the box.. annoying, but NOT the end of the world. I think that this could have been avoided in more carefully packing those pieces. I ended up short a t-rod for the 16" floor tom.
I contacted the retailer and problem is being rectified with regards to the missing rod.
The drums themselves looked to be expertly built, with nice sharp edges, beautiful grain, no indication of the use of any filler wood in the shell lay up.. just really really nice tight, round shells! Very impressed!
The finish (Sunset Burst) while having a few flaws ie; tiny air bubble (s) here an there, is.. in the grand scheme of things.. Breathtakingly beautiful! The chrome plating on the shell HW looked very good on my kit and the use of gaskets under lugs and other shell fixtures was a very nice touch as well! The bass drum claws are nicely made; cast and beautifully machined. The minor gripe I have is the fact that the machining of the lug insert nuts was not the greatest and required a dab of lubricant and additional care when installing t-rods., but everything went together nicely.
The kits come with a package containing 6
upgraded floor tom brackets
and the hardware to attach them to the pre drilled floor tom shells...- more to assemble! Not a biggie. The upgraded leg brackets are very nicely machined and chromed. Chris Ward ( CC co-designer) mentioned that he was going to see that better accommodating packaging be used to eliminate having to assemble the leg brackets to the shells.
The
hardware pack
is amazing for the price!. I found that it is kinda hit or miss whether the factory uses grease where grease is needed. The standout piece for me is the HH500 highhat stand. This thing is HEAVY DUTY! The legs are heavy, double braced and have nice big rubber feet. the foot stabilizer plate is made of heavier gauge steel and everything is assembled and machined expertly! I didn't have a real op to play this stand yet, but from what I have seen so far, I like it.
There was concern voiced regarding the basket cinch nut and tilter mechanism on the snare drum stand being iffy. As I put my stand together, I noticed that the mechanism (titer) when tightened still seemed to wobble when tightened. Everything was dry and void of any lubricant. I took it upon myself to bust out my can of TriFlow (bicycle lubricant) and loosen up the tilter to close to the point of dis assembly and spray in some lube.. I did this to all the HW, wing nuts, pivots etc.. and let me tell you.. THAT was the ticket! My snare stand is a brick crap house.. no more wobbling, everything tightens up smoothly and rock solid! Even the basket cinch works great now! Don't loose hope on the snare drum stand.. It is very solid! The bass drum pedal looks to be of great quality as well. I don't know how much regular use it will see as I am favoring my Pearl dbl pedal for alot of what I do. I will however do a more comprehensive analysis of this set up including the performance of all the hardware. From what I have seen thus far, there is a lot to love about the CC Pro Birch Hybrid and only a few minor gripes.
More a little later..
Last edited: