Hello,
I am familiar with the 1st and 2nd generation Rhythm Traveler kits. I picked this one up used and I have not seen another one like this.
This is the "pod" 2nd generation. But the only two models I have seen are black with black hardware or burgundy with black hardware. Mine is a blue/gray color, with chrome hardware. Also, the tom sizes are 8/10/12 with a 10" snare. The other 2nd generation models all have 12" snares. The bass is a 14" (Depth) x 16" (Diameter)
Finally, I have not seen these particular lugs used on any other Pearl product. The snare looks like the M-80 Firecracker snare that they have out now, but the other lugs don't seem to be used in any other Pearl models.
All the badges on the shell are labeled "Rhythm Traveler" so it's not like it's a custom job from someone else. I just have not seen that color, sizes or lug design on any other Rhythm traveler. Interestingly, the toms all have 5 lugs, while the snare and bass have 6.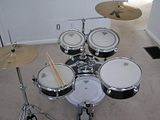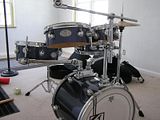 They are a blast to play and they actually sound pretty darn good. I love the 10" snare, although it's impossible to do a cross-stick on (not a big deal).
Thanks for your help!
V