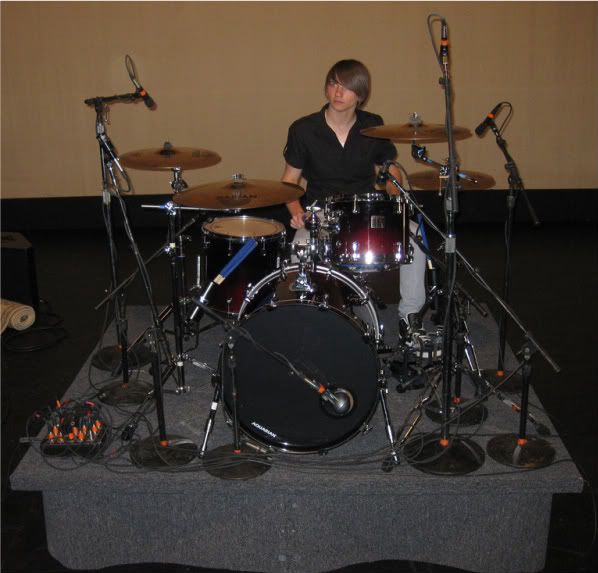 This spring my 15-year-old son Ben, joined teen power pop/rock band One Step Away
http://myspace.com/1stepawayband
https://www.facebook.com/onestepaway
as their new drummer. Because the group has an active front line that uses their own individual 6" -8" stage platforms during their shows, in preparation for summer tour gigs my son was urged to buy a drum riser of his own (the drummers hard enough to see sitting down, let alone behind some risers for the front guys!).
Some quick Internet shopping demonstrated that I'd need to spend $600 to $1000 to get a pre-made version, and that was only 6" to 12" high. The previous drummer had a double 4'x8' plywood/stud framed riser that needed a pickup to transport, multiple crew to move and legs to be bolted on. I knew that wasn't for us. Minivans (and now a trailer) are our modes of transport, so I wanted something that would fit, and two people could handle. I was also concerned that fire codes at some venues might frown on wood, so I wanted non-combustible, but what material. I searched the forums and saw the folding cot supports, egg crates and custom welded projects but couldn't decide. Then one day I saw some commercial hollow metal doors slated for disposal and I had my scheme.
Commercial doors are usually 3'x7'-0", but other sizes are available. A pair of these resulted in a 7' x 6' riser which is plenty for the set with two floor toms, room for a wedge monitor next to the hi-hat and all the drum mic stands. This even gives the guitarist a spot to jump up onto!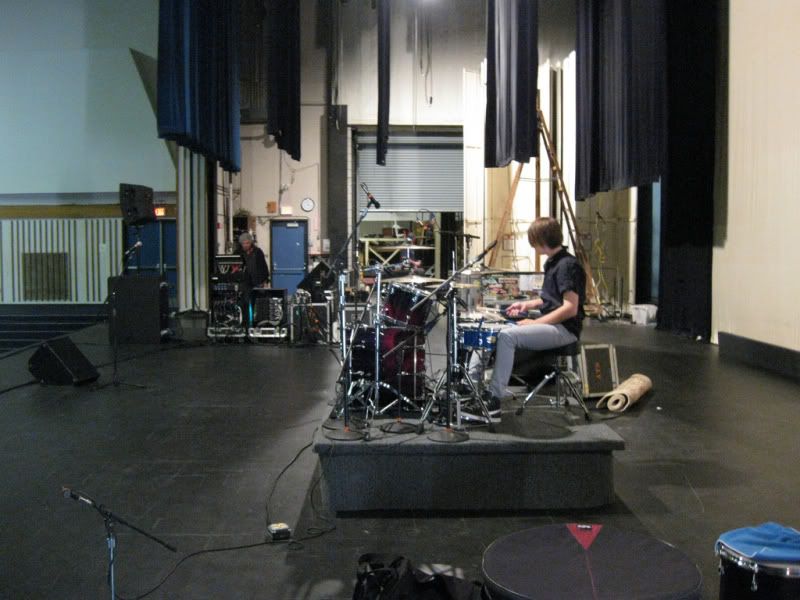 I was able to get two different swing doors and use two pairs removable pin hinges to connect them on stage. I drilled a hole through the pins and wired them to each door to avoid (delay?) the inevitable lost parts.
On top of the doors I glued some level loop commercial carpet and wrapped it around the edges to cushion/protect/and finish the door edges. I used a carpet transition strip to terminate the carpet on the edges and screws with washers to anchor it on the long sides.
But what to use to support this? I wanted stable, simple and of course "cost effective" - the kid's got both a Yamaha Maple Custom Absolute and a Tour Custom kit: somethings gotta give! Reading about the old milk crate supports and the modern nesting plastic system one defunct (I think) drum riser manufacturer offered, I came up with 5-gallon buckets. About $2.50 at Home Depot, available anywhere for replacements and very strong in direct compression: I've seen some big ole construction guys perched on these things.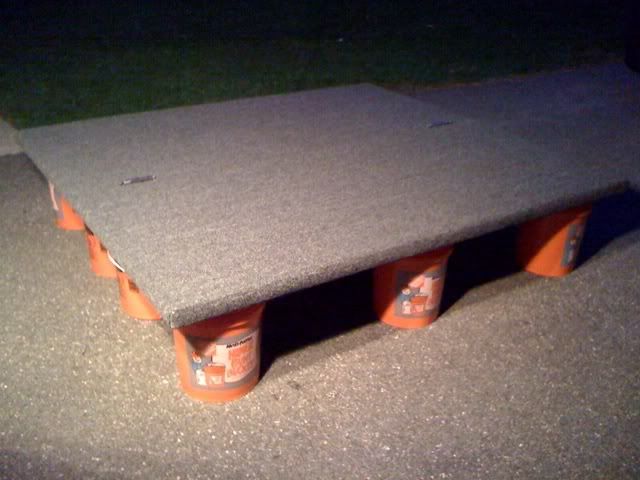 I attached 5-gallon lids to the underside of the doors with self-tapping screws. I needed to cut plywood spacers to fit under the lid, since the lip of the lid holds the top surface 1/2" away, which I then screwed threw into the door.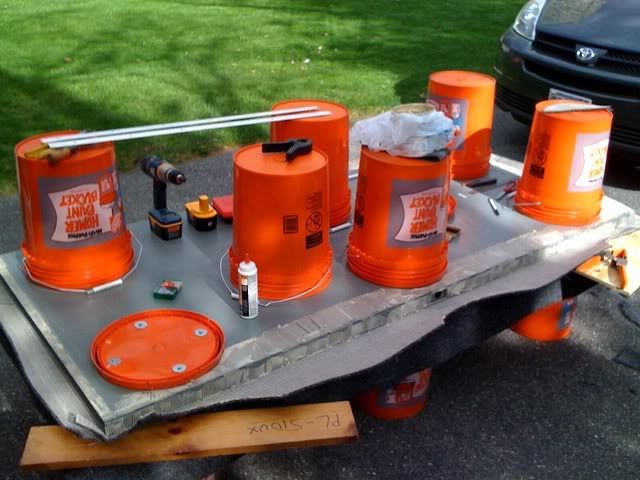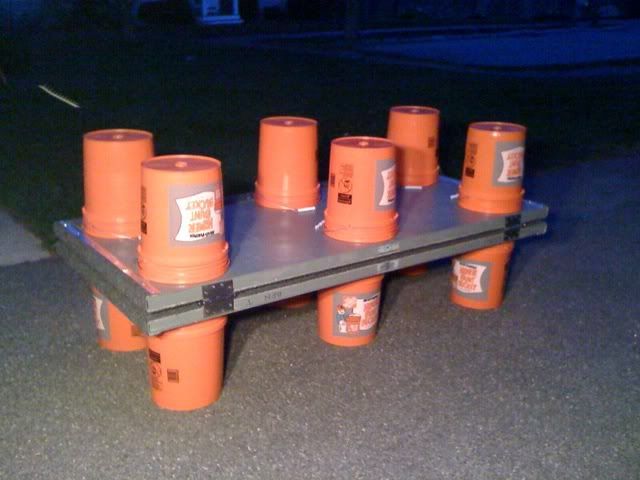 At many venues the sound guys all start eyeing these buckets suspiciously, until they see how quickly the riser goes together at which point they start telling me they love that riser (and a few have said "I thought you were going to do a Stomp routine!")! Since their business is always framed by set-up/breakdown, they really appreciate the speed.
To do set up we bring in the 12 buckets in one stack. Set up at least 4 buckets in a rectangle. Bring in the first door, lay it down carpet side down. Snap on the six buckets. Flip it over. Bring in second door and put on top. Align and pin hinges. Snap on six remaining buckets. Swing this side down and ready for drums.
I needed a skirt around the perimeter to hide the orange homer buckets, but I didn't want a frou-frou fabric skirt, too theatre, not rock. So I made mine from carpet. I cut a strip about 16" hight for a friction fit between the floor and the underside of the riser. Since the carpet wraps under the riser, I get a nice non-slip interface. (I used seam-seal adhesive to reduce pulling on the cut carpet edges.)
To install I roll out the 24' long x 16" carpet skirt and tip it up around the buckets. Though not fully necessary, I use a clamp in the rear to join the two ends, but should really make a bungee cord corset someday. Sometimes we push the carpet in between the buckets to give the base an undulating pattern.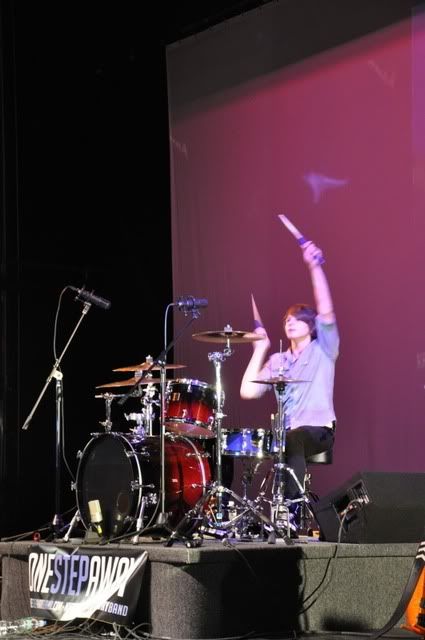 I through bolted a few handles to the underside of each riser to make carrying/pullling out of trailer easier. Also a few D rings to lash stored items in the trailer to.
So how's it work? Great. Solid as a rock. Jump? No problem. No vibration, no splinters. One door is a heavier gauge and as a result, "heavier." The drum throne sits on that.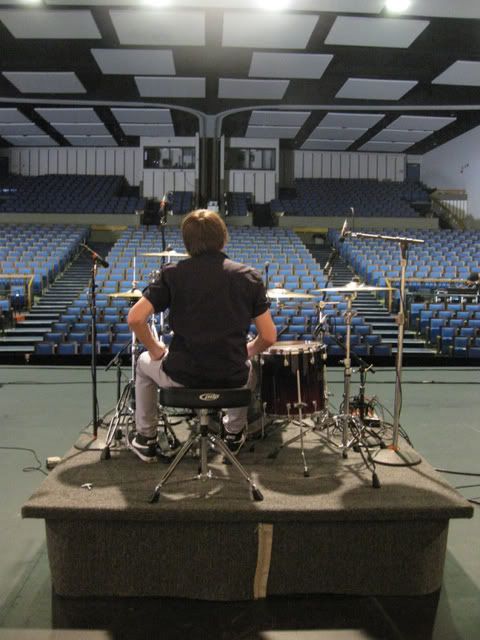 Except for the doors, all the materials were bought at Home Depot.
Here's a recent shot: looks like its part of the stage at Hard Rock.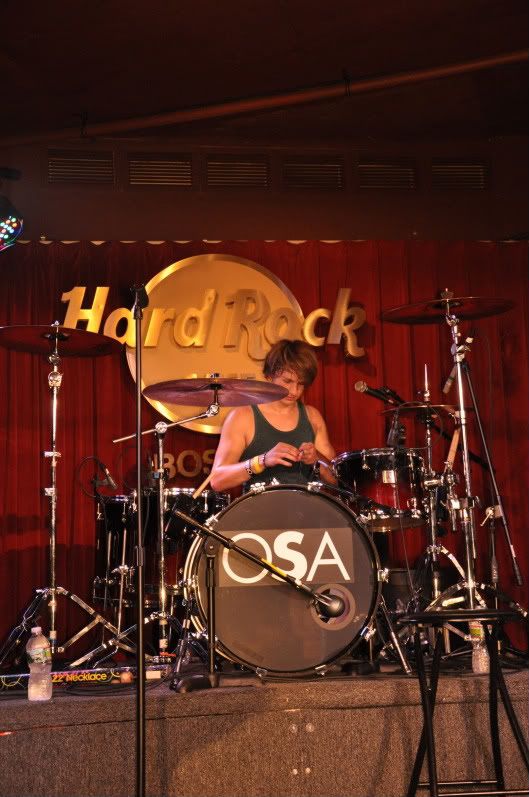 I recently made a series of lower, 8" high buckets (and a smaller carpet skirt) for smaller stages. So far we haven't used them, but someday - can't hide the most interesting part of the band (unbiased drummer parent opinion!). Now I can't watch a band without an elevated drummer without thinking how subsidiary the drummer looks. Once, on a small, uneven, unstable outdoor stage platform, we even used the top with out the buckets for a 3" rise, even that was a big improvement.
JT
Last edited: