Quote:
Originally Posted by
diosdude
Trick 01-v detonator bigfoot.
Compression spring action. Only other pedals with this action: Premier ?? and Ludwig speed king (1937 design, never updated)
Silent operation.
Advanced space age alloys
I have owned a yamaha 8215, a tama iron cobra, a DW 5002 and 9002, Ludwig speed king. The trick pedals blow them away for features and adjustability. Total customizable position and action. The only "feel" you cannot achieve with this pedal is "assist" the way a DW 5002 "leads" you.
The only "flaw" i have with mine is that the pedalboard is too flat and polished and i can't get traction near the heel for heel-toe methood. (i solved this by wrapping the heel with tennis-grip: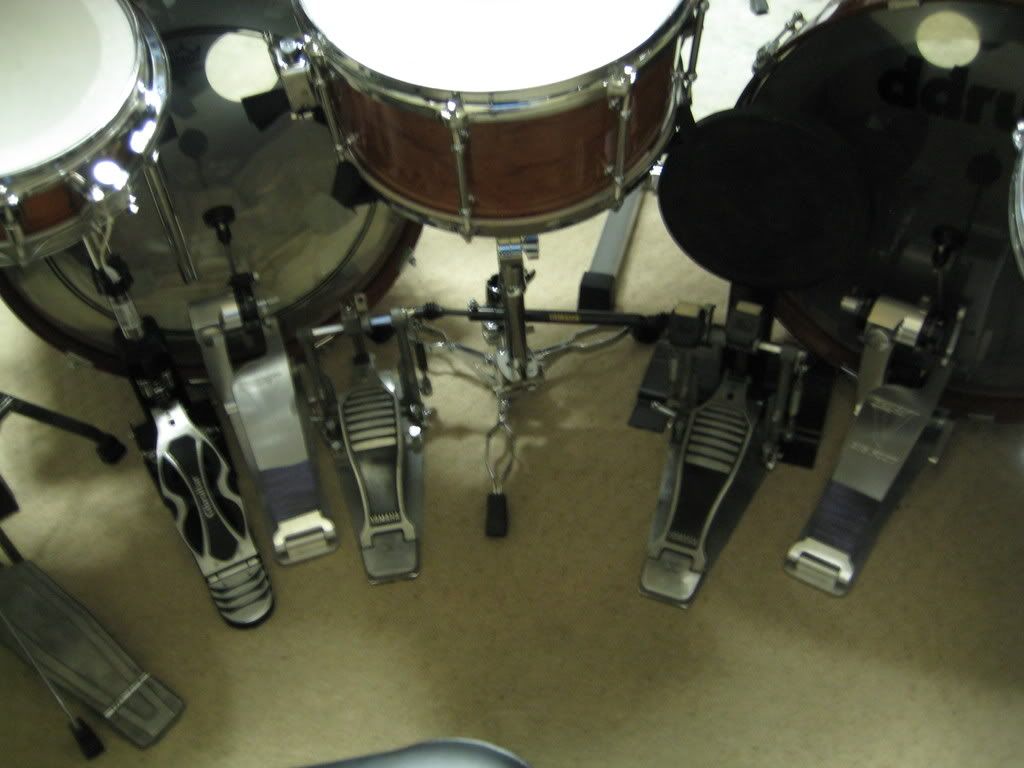 That is a really cool setup there with the second set of pedals going to the aux pad. I am really interested in the Trick pedals. However, there are a few reasons why I probably will avoid going that direction.
a) I am already happy with the Elims as far as adjustability. The different cams offer quite a few different feels... maybe not as adjustable as the Tricks, but I would say it comes next.
b) The price of the Tricks.
c) The fact that I tried Axis longboard direct-drive and couldn't get used to the feel. I understand the Trick is supposed to feel different, so I do still want to try them out, but I wonder how much of the feel is just the idea of direct-drive.
d) I can't find any local retailers who stock the Trick pedals, which means I can't try them before buying and also it means that any replacement parts would have to be ordered. This is another reason I moved away from Axis. It just wasn't convenient when I had a part to replace a day or two before a gig and then I had to borrow someone elses pedals or play on them with problems.
Aside from those things, the Trick looks state-of-the-art, and if I ever get a chance to play on one, I'd be pretty happy.