Ei WZP guyz!!!
Cool news-i'm now a DS Drum Sound official endorser (
http://www.dsdrums.com
) - This brand is from Italy and it's very well knew for the quality and the sound of their instruments, i don't wanna tell too much about the quality overall like an ass licker because my endorsement - But i'd really wish you all could test them one day soon-unfortunally they are a lit bit limited on the worldwide distribution, but they'r working hard on that way too.
This time it's all about the sound- and it's amazing, even you wouldn't trust me, i tell you that these drums would kick ass to the best sounding drums in the world industry.
In the pics below there's my basic kit (i'm waiting for the 8" tom, the 14" floor tom and a couple of snares) called Evolution 2.0
Toms are made in Hard Maple and Birch with vertical mahogany reinforcing rings
Floors are made in Hard Maple with vertical mahogany reinforcing rings
Kicks are made in Hard Thin Maple with Hard Vintage reinforcing rings
The sound it's full of low ends-deep as hell and also it sounds equalized in every place i put it.
Soon my profile on their website, better pics and video would be available :D so excited!
Oh the kit you see here is in Electric Caramel - Double Wet Finish and the sizes are 7,5x10 - 8,4x12 toms, 15x16 floor tom and 17,5x22 kick. Hope you like it-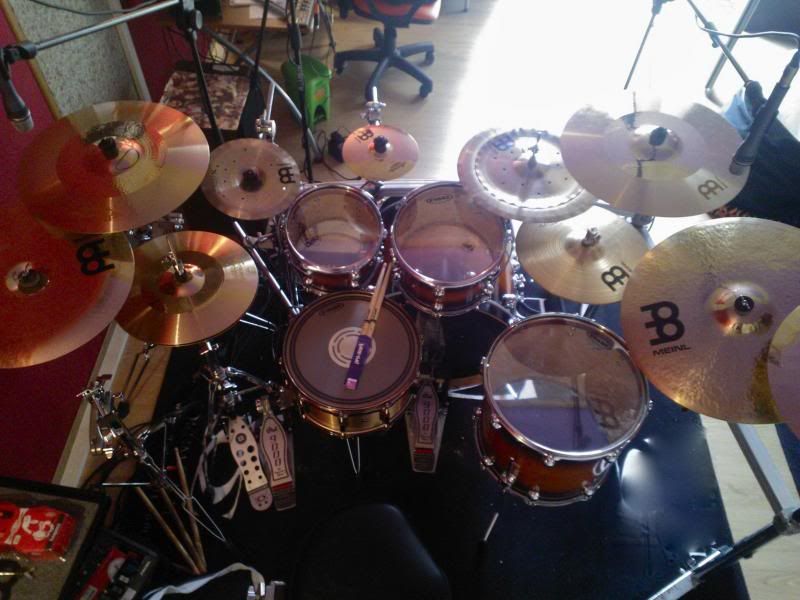 this one is from their website