I bought this kit used in January, and man, do I love it. I dealt with some Sabian B8 Crashes and hats, and XS20 rides and Splashes. I finally got sick of clangy hats, so I bought something that is worth more of my time about 2 months ago, which are my 14" AAX-cellerator hats.
I loved the hats, and finally gained enough money to buy some new cymbals! After a couple months of research, I decided on getting some AAX x-plosion cymbals, in a 16", 18", and 20". I was at the store and just fell in love with the 21" AAX Raw Bell Dry ride, so I picked it all up. In total, it cost about $800 with a cymbal bag.
The day before the cymbals, I had also bought new batters for my kit. I went with some Remo Emperor Weatherkings for my rack toms, and Remo Pinstripes for my floor toms. Sizes go 8", 10", 12", 14", 16", 18". While I was there, I thought I'd also buy some kick batters, so I bought a couple Evans EMAD2's. Which, right now, I love with a passion.
Pictures: (Mind the blurriness, my camera is ancient).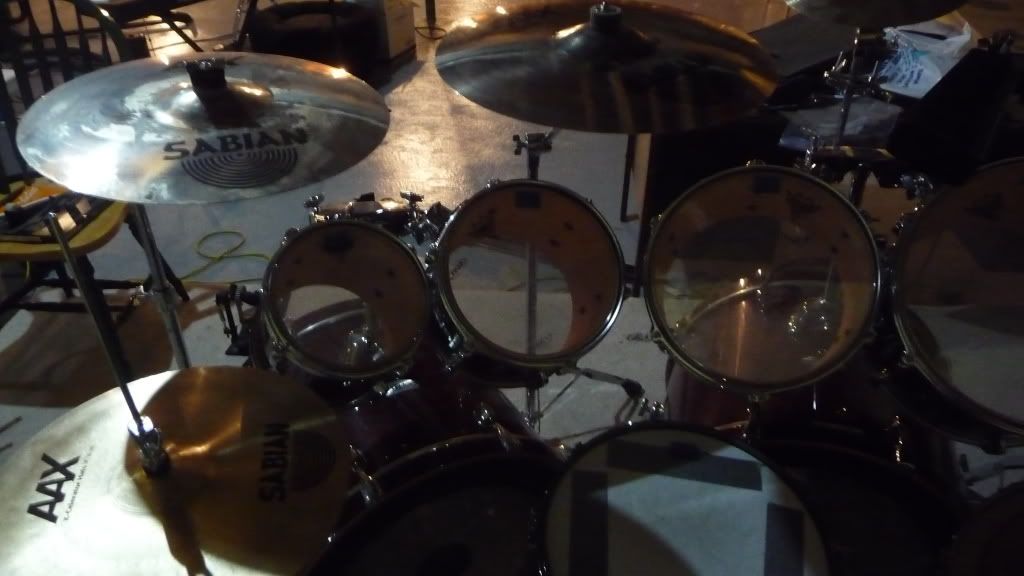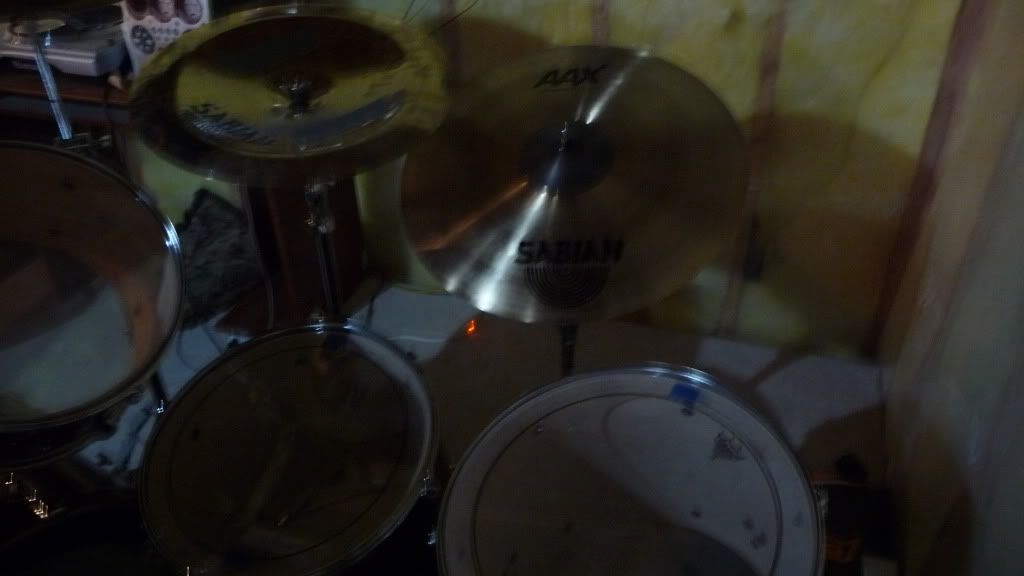 The Black Panther Steel Snare, and the 18" AA China came with the kit. I was also thinking about getting an AAX China, but in all honesty, the AAX and AA China's sounded the exact same.
Now you might be wondering why my kit is only 85" complete? It's a ballpark number, but I'm going to invest in a rack for my kit. With it being double kicks, I need to custom make it. I'm going to go with Pearl, since Gibraltar was way to pricy. Here's what I'll do:
I'll buy 2 curved rack bridges:
$375
A 6-8" Mini Expansion bar to go in the middle:
$50
4 Toms holders: (comes with 4, can use previous cymbal arms on them)
$120
8 Cymbal holders:
$440
After, I'm thinking of doing a Jimmy Sullivan set-up, having two rides (one above the hats, one on the far right), except the XS20, 20" ride will be on the left, where the Raw Bell is on the right.
In all, it comes to about $1000, but since I got referred to talk to the owner of the store, I may be able to reduce that a little bit. I only have 6 Cymbals (not including a Dixon Cowbell), so I would consider buying another crash, perhaps a 16" or 19" Xplosion as well. So many decision, so little money...
Oh, I also bought these while being about $3000 in debt. Goes to show you how much I love drumming, (even though I'm no good at it...)
Thank you for looking!
Edit*
Forgot about the Hat Stand and Pedals. I have two Speed Cobras, one which I had to order from 3 hours north since the factory has about a 6 month ship time. I replaced the beaters with the Iron Cobra beaters, since I didn't think the tip on the Speed Cobra beaters would be that healthy for the batter. I also bought the Iron Cobra stand used for about $40 bucks, which I'm happy about.