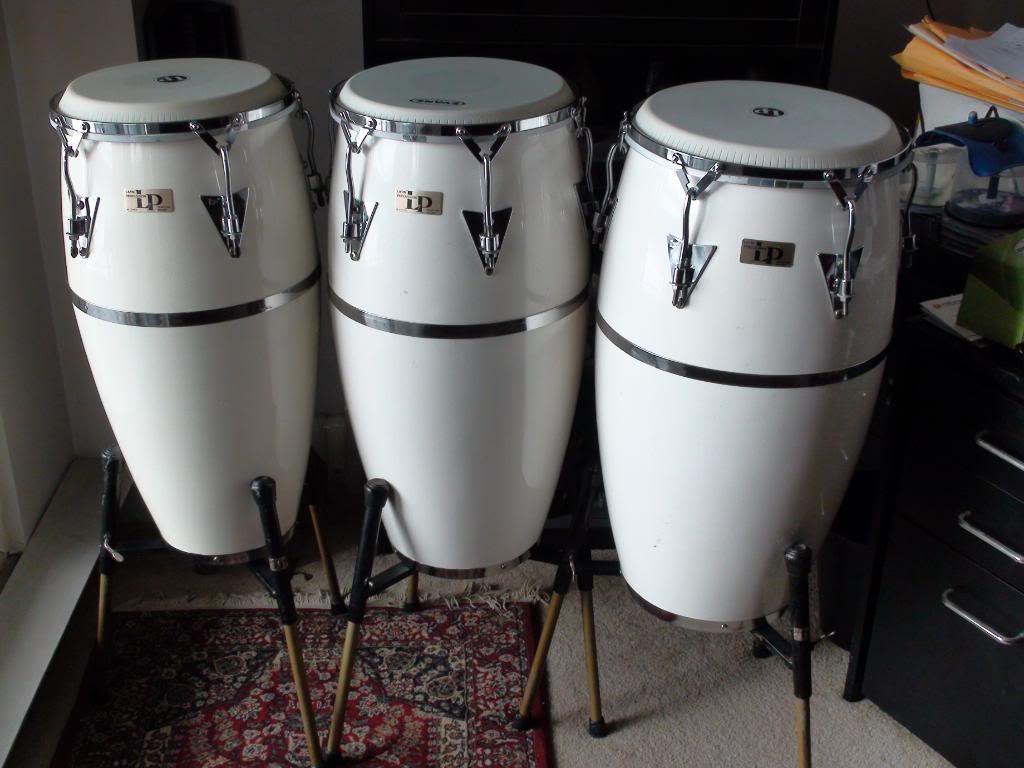 Hey conga players out there,
Can anyone give me advice on what these congas are worth? :o
I heard that these drums are a piece of history and simply cannot be found new on the market today. I even found an old 1977 B&W photo of Carlos "Patata" Valdez playing the same model drums with José Mangual, Sr. in Martin Cohen's Rosebud Recording Studio on 48th Street in NYC for the recording of Mangual's album "Buyú".
http://s1192.photobucket.com/albums/...tataValdez.jpg
They are a set of three vintage 1978 white LP fiberglass congas hand-crafted in Palisades Parks, New Jersey, USA (11" Quinto, 11"3/4 Conga and 12"1/2 Tumbadora each are 28.5 inches tall). I bought them new in 1978 and these drums are clean and all the original hardware is pristine and free of corrosion. Each drum comes with the original emblem marked by Martin Cohen, the founder of Latin Percussion. Each piece of hardware is stamped with the LP insignia and has been recently cleaned and oiled. The set has three new synthetic Evans heads which offer incredible durability, weather resistant and tuning stability. The only slight imperfections are some very small scuff marks around the lug area due to the vintage style tuning system of bolts and washers. As you can see on the photos the wear and tear is minimal. These drums are in spectacular condition considering their age.
Photos:
http://s1192.photobucket.com/albums/aa330/starbrite2/
Video:
http://www.youtube.com/watch?v=2-mdDwj0GBU
Any advice would be appreciated!
;D
Thanks!