Well, this is my beast: a Tama Granstar II kit, which I have been told is the drum kit Lars Ulrich used (can someone verify?). This kit was actually GIVEN to me by my dad's friend; I am the luckiest 16 year old in the world. I haven't been able to play them much lately, but after taking these pictures I realized how much I miss this monster. Here's the specs on it:
Cymbals:
21" Zildjian A Sweet Ride
20" Sabian AAX Stage Ride
20" Sabian ride (everything wore off; You can slightly see "Sabian" on the underside)
18" Nuvader Crash/ride (lolwut)
14" & 16" Paiste PST5 Thin Crashes
12" Wuhan China
6" Zil-Bel
13" K hats
Drums:
2x 24" Kicks
Toms:
6"
8"
10"
12"
13"
14"
15" (Not pictured, but is in my possession; not enough mounts for this drum)
16"
18"
20" Gong drum (Don't have the cradle for it, looking to buy one soon)
13" Pork Pie Piglite snare (my absolute favorite)
14" Tama Starclassic Maple snare that I use every once in awhile...
I know it probably looks like a lot of work to play because of how awfully the drums [i]look[i] like they're positioned, but in actuality it's very easy to get around the set and is a real cockpit kit.
And here she is...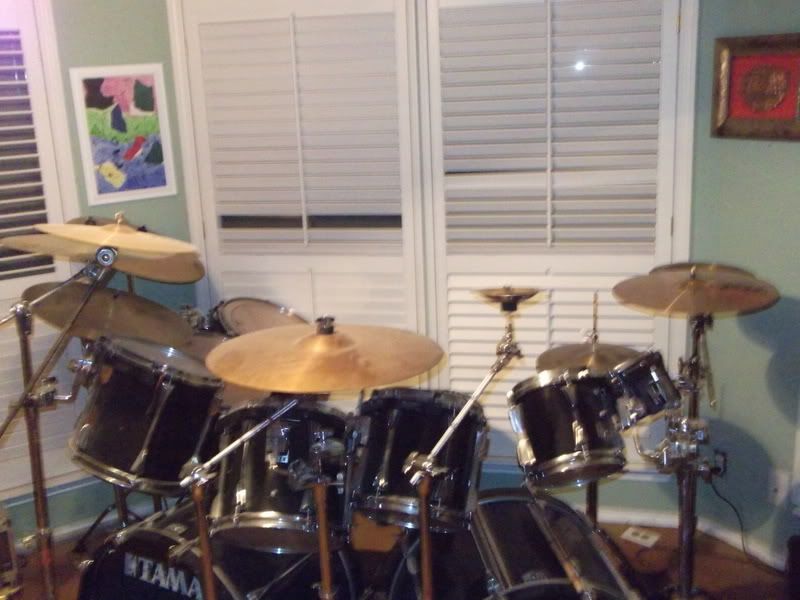 (Please note the ceramic ram sitting on a half stack)